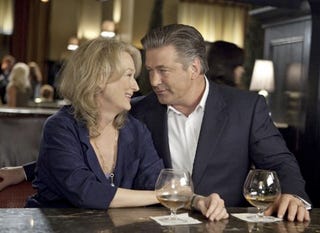 It would be hard for a film starring Meryl Streep, Alec Baldwin, and Steve Martin to not be entertaining, but critics complained that It's Complicated is just an unrealistic "fem fantasy" about conspicuous consumption and revenge against philandering husbands.
The film, which opens tomorrow, stars Meryl Streep as Jane, the owner of a successful Santa Barbara bakery/restaurant and an absurdly gorgeous home. (Time described the film as a "live-action edition of Martha Stewart Living.) Ten years ago, her husband Jake (Alec Baldwin), left her for Agnes (Lake Bell), a stereotypical younger, bitchy supermodel-type. Jane and Jake have three grown children (Caitlin Fitzgerald, Hunter Parrish, and Zoe Kazan), and when they reunite to celebrate the graduation of their middle child from college they wind up having a drunken tryst that grows into a full-blown affair. Though reviewers said the situation isn't really all that complicated, Jake and Jane's rekindled relationship sparks some fluffy humor when they smoke marijuana together for the first time in years, their daughter's fiancé (John Krazinski) spots them during a hotel rendez-vous, and Jane's sweet but unexciting architect (Steve Martin) begins pursuing her.
Earlier, we addressed the controversy over the "decorator porn" presented in the film, but some critics also accused director/writer Nancy Meyers (who specializes in movie fantasies about rich people who can't seem to get their personal lives together like The Holiday and Something's Gotta Give) of hating women. Jane is a "highly strung, self-pitying, sex-starved nag defined expressly by the men in (or out of) her life, despite her resolve to be an independent woman," and rather than being the charming rogue portrayed in the trailer, Jake is "so odious that the affair makes little sense." The film is funny at times but not hilarious, and you won't find many deep observations about infidelity or middle-age. It may be the film equivalent of flipping through the Williams-Sonoma catalog while watching a Jack-centric episode of 30 Rock, but there are worse ways to spend an evening. Below, the reviews.