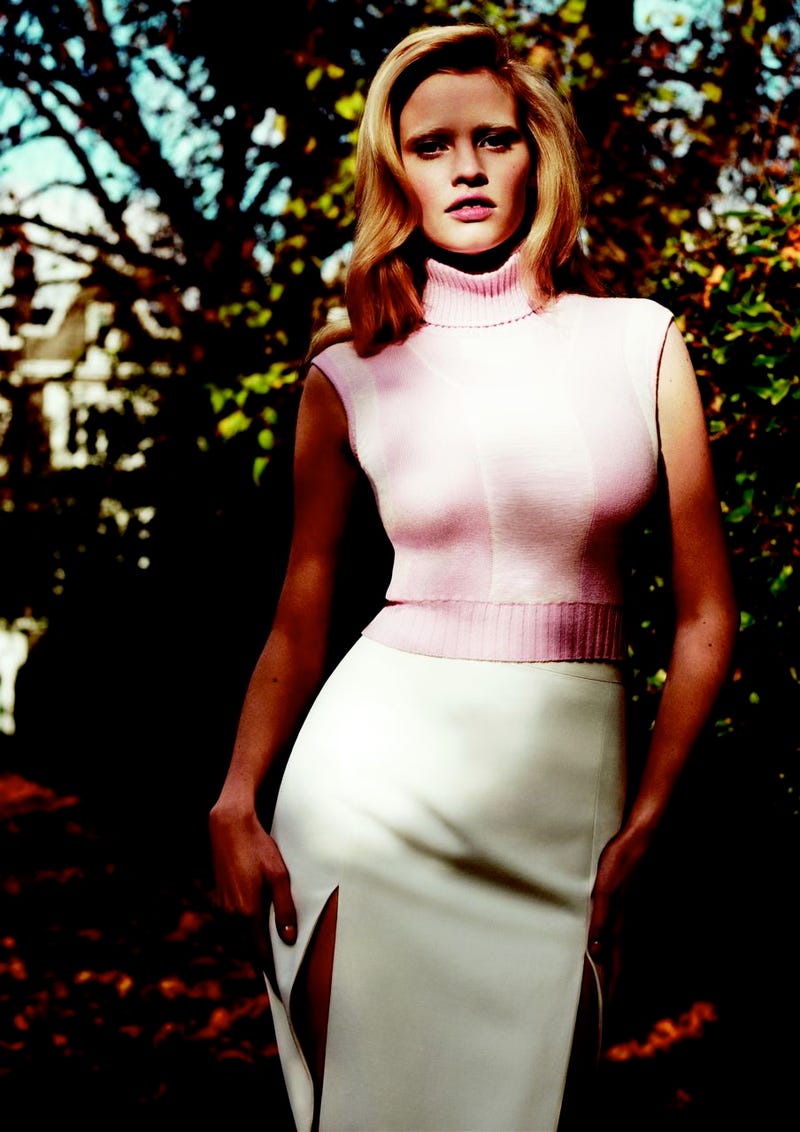 Consider the cruel plight of model Lara Stone. Although she wears, at most, a U.S. size 4, the fact that she has breasts means that — well, nobody in fashion calls her 'fat' exactly, but...
The way Stone is talked about in this Vogue story — cover line "When Size 4 Is Too Big: A Curvy Model's Struggle To Fit In" — you'd almost think she was a plus-size model instead of a girl with the highly typical (for a straight-size model) measurements 33"-24"-35". Writes Rebecca Johnson:
'What they say is 'curvy,' but you know they mean fat," says Lara Stone, who is Dutch and so soft-spoken, you have to lean forward to hear what she's saying. However, she enunciates that word — fat — clearly and forcefully, as if it were caught at the back of her throat. The word hovers over the din of the hotel lobby where we are seated in downtown Manhattan, laced with irony and just a tinge of bitterness.
So that's 11 rather straightforward words from Stone, and 59 words from Vogue about what Stone said. (I guess when a word, having at last dislodged itself from the subject's throat, literally flies out of her mouth and floats in the air of a hotel lobby, it requires special treatment. Did she fling her arms in the air, too, Vogue? Because limb amputation sounds almost as painful as reading that sentence!) Anyway:
Worse than being called fat is a gaggle of stylists whispering in a corner after you've been trying on clothes for ten minutes. "That," she says, "is when I know I'm about to be canceled."
And even now that her position in fashion's firmament ought to be secure, given she has earned Karl Lagerfeld's favor, worked with the world's top photographers, and been on multiple covers of British, French, and American Vogue, she still encounters narrow-minded folks who make her feel like "the odd one out." "I was on a shoot just last week," Stone told Johnson, "and the stylist took out this tight corset dress and said, 'Here, put it on,' and I was like, 'Who are you kidding?' There was no way, so that was very rude of her. It's like, come on, she's a woman; whether you're buying jeans at the mall or wearing couture, you know what it's like for clothes not to fit. It's not an easy kind of rejection, because it's very personal. It's you, your body. You take it to heart."
What I guess a lot of people don't realize is that modeling is just manual labor with fancier clothes. The work is deeply bodily, and therefore the division between you and your work dissolves: everything you wear, how you present yourself, how you walk, every product you put on your face, every haircut, and, mostly, everything you put in your mouth, impacts your career. It is automatically a professional choice, not a personal one. There is no meaningful work/life balance, because your body is your work. Of course, women outside of the modeling industry have long been told that their bodies need to be their "work," too: that we all need to obsess over our arms and abs and thighs and do 30 squats on our lunch breaks and always take the stairs and use the Shake Weight and join gyms and buy athleticwear and Lose 12 lbs Before Sunday. It's just that for models, these imperatives are professional. Living is work. And that can kinda mess with your head.