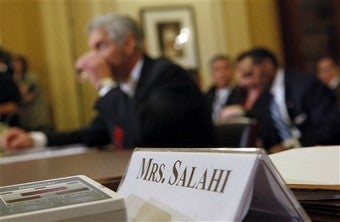 Wall Street Journal writer Mark Helprin says those "strange pinheads," Tarek and Michaele Salahi, deserve their own verb. He also lists some other famous people whose names have entered the common lexicon — but we can think of more.
Helprin says the White House crashers have given "a gift to the language in the form of a richly functional verb-to Salahi." He defines the new verb thus:

To Salahi: v. U.S. [after 21st century reality-show aspirants Michaele and Tareq Salahi] 1. intrans. to gain entrance to an event or gathering to which one is not invited. "They Salahied into the Bar-Mitzvah even though they didn't know the Goldblatt boy, and ate most of the chopped-liver sculpture of Elvis." Shakespeare, Sonnet MMIX. 2. in a general sense to appear where one is not welcome. "Michael Moore Salahied into George and Laura Bush's second honeymoon to lecture the former president about justice for the undocumented immigrants held at Guantanamo." Chomsky, Profiles in Courage. 3. to forge, fake or pretend, especially in hope of achieving a contemptible or pathetic objective that is simultaneously a comment upon the corruption and distastefulness of a particular individual and society itself. trans. "To elevate his chances of becoming a Chippendales dancer, Arnold Toynbee Salahied a letter of recommendation from Rosa Luxemburg. Al Franken, An Intellectual History of the United States.
Helprin also mentions a few other famous names that have become generally used words, like Ponzi of Ponzi scheme fame. Unfortunately, he forgot Santorum — a "sexual neologism" which, Dan Savage would be glad to know, now appears before Rick Santorum's official homepage in the Google results for the name. In the spirit of both Salahi and Santorum, we'd like to propose a few of our own new verbs, based on some of this year's luminaries.
To Heene: to exploit one's children for fame and/or financial gain, esp. to do so in a ham-handed or ridiculous fashion. See also To Suleman.
To NeNe: to strangle someone at Bow Wow's mom's boutique.