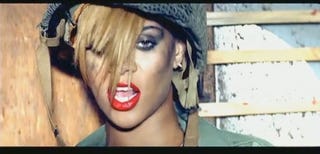 The new video for Rihanna's track, "Hard," hit the web late yesterday afternoon. The message she's sending comes through loud and clear: She's hard. As in tough. But as we all know, there's more to this story.
They can say whatever
I'ma do whatever
No pain is forever,
Yup, you know this.
These are the opening lines to "Hard." And the images we see in the beginning of the clip are of Rihanna in military gear. She wears a helmet — the function of which is to protect. She is also dressed as a sergeant, or some kind of ranking officer, addressing her (all male) troops.
For a woman who was beaten by a man, taking on war imagery and a position of power over men makes perfect sense.
In addition to her helmet, she wears a flesh-colored top with the nipples blacked out. On the one hand, there's only so much nudity you can get away with. But this could also be an acknowledgment of the boundaries she is setting: You can see this much, but you can't see everything. It's a tease — putting her, again, in a position of power. She chooses how much you can see.
Images of Rihanna walking through a literal battlefield not only mirror the minefield of her relationship with Chris Brown, but the dangerous territory of being in the public eye, with "bombs" about your private life dropping all around you. The lyrics here are:
I'ma rock this shit like fashion, as in
Goin' til they say stop
She's not afraid to forge ahead (or she wants you to think she is). The lyrics continue:
And my runway never looked so clear
But the hottest bitch in heels right here
No fear
And while you getting your cry on
I'm getting my fly on
It's as though she has picked herself up, dusted herself off, and realized her self-worth. She knows she is too special to let anything stop her. While we might be "crying" over her assault, she's busy getting back to — or keeping up with — the business of being fabulous.
The "stay away" spikes and warrior make-up hammer the point home.
And then there's a gun. Rihanna got a gun tattoo in March; she was assaulted in early February. Was the former a reaction to the latter? Some commenters on this site called the tattoo "advocating violence," "sad" and "misguided" and wondered if she didn't have any positive role models. Others noted that we don't actually know the significance of her gun tattoo and what it means to her. One commenter pointed out: "People get tattoos for all sorts of reasons and I think 'helping me get through a tough part of my life' is a pretty good one."