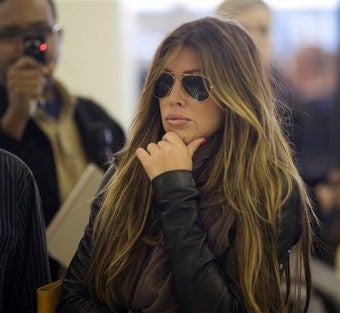 A long Daily Beast article about Rachel Uchitel raises an interesting question: was she just Tiger Woods's mistress, or more? And what does the answer say about the Tiger Woods scandal and the sex lives of professional athletes?
I feel a little dirty about it, but I kind of couldn't take my eyes off of Jacob Bernstein's Daily Beast profile of Uchitel. Partly this is because she had a pretty interesting life, punctuated by tragedy. Her dad died of coke addiction, and her fiance died on 9/11. Then she fought his parents over his money, saying, "Money doesn't necessarily compensate, but in this society that's what we use to compensate. What else is there unless they're going to give me some knight in shining armor?" Then she married another guy, divorced after four months, and over time became "a concierge, a consiglière who made sure VIPs were being taken care of over the course of the night." Bernstein's description of Uchitel at this point in her life reads like an especially sleazy detective novel:
By the time [club owner Jason Strauss] became involved with Uchitel (and gave her a job, first at his club Tao in Vegas, then in New York at Marquee), the club wasn't truly exclusive, though it was certainly expensive.

The same description could be used to describe Uchitel. As far as her looks went, Uchitel was no runway model, but she was sexy in the slightly overprocessed way that her job demanded, with a taste for Christian Louboutin heels and a body that was, at least of late, widely believed to be surgically enhanced. When Uchitel's relationship with Strauss busted up, she dusted herself off and moved on to other late-night locales, where she earned a reputation for being savvy and hardworking, albeit with sharp elbows and a bit too much drama.
She was the kind of dame you could have, for a price. But as the golfer later learned, that price was far too high. Cue saxophones. Seriously, though, Rachel Uchitel's story actually gets even more noirish than this. Bernstein cites our brother site Deadspin's claim that Uchitel was not just a mistress, but in fact a procurer of women for Woods. A.J. Daulerio (of cheetah fame) wrote that "Uchitel's main job was to provide women for Tiger during his globetrotting excursions to various tournaments, charity functions and fuck-and-run private-jet weekends with his Fortune 500 party pals that he seemed to enjoy so much." He also quotes an anonymous source who says, "Rachel Uchitel works for Tiger the minute he gets off the plane wherever he is: from dinner, to photos, to nightclubs, to drugs, to girls - whatever he wants," and "her agenda is to land big clients - not big boyfriends."