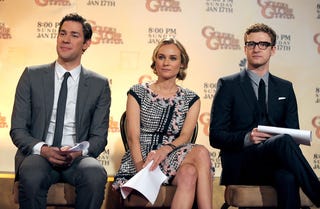 This year's Golden Globes nominations indicate a not-bad year for women, including The Hurt Locker director Kathryn Bigelow and Precious's Mo'Nique and Gabourey Sidibe and their respective films. Bonus: Justin Timberlake yuks about John Krasinski getting laid tonight.
In the Best Director category, Bigelow is up against heavyweights like Clint Eastwood (Invictus) and Quentin Tarantino (Inglourious Basterds), relative newbie Jason Reitman (Up In The Air) — and her own ex-husband, James Cameron (Avatar). According to Women & Hollywood's Melissa Silverstein, whose take we asked for this morning, Bigelow is the fourth woman to be nominated in the category (Barbra Streisand was nominated twice and won once, and Jane Campion and Sofia Coppola each once). She would be the first woman to win. She would be the second woman to win, after Barbra Streisand for Yentl.
In the actress categories, it was a good year for women over forty: double nominations for Meryl Streep and Sandra Bullock, including for The Proposal and It's Complicated. (Clearly, the Hollywood Foreign Press Association doesn't agree with Manohla Dargis about the current state of romantic comedies.) Silverstein points out that Marion Cotillard is the only woman under forty in the best actress in a comedy or musical category, up against Meryl Streep (twice), Julia Roberts, and Sandra Bullock.