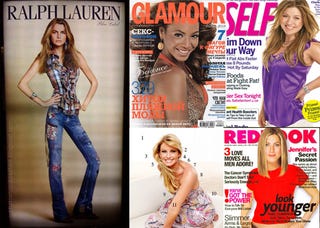 Slimmed thighs, whittled waists, smoothed skin: Digitally altered women were de rigueur in the 00s. There were many, many Photoshop Of Horrors images to choose from, but these are the 15 most egregious examples of image retouching in this decade.
15. Russian Glamour, June 2009
Beyoncé's skin looked digitally darkened on the cover of Russian Glamour — and the editors had a guide! A magazine called Joy used the same shot in December 2007. Was something lost in translation? Save your "black Russian" jokes until the end.