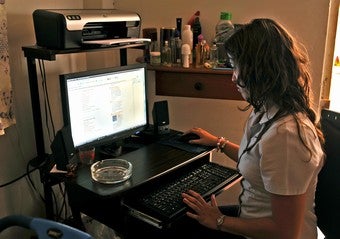 Blogger James Chartrand came out today as a woman — and her experiences reveal that the blogosphere, and the job market in general, aren't as egalitarian as some people claim.
James — she's still going by the pseudonym, hasn't revealed her real name, and that's not her in the pic — says she started blogging to help support her kids during a tough financial time. She began using a male pen name one day simply to distance a project from her still-struggling business, and, she writes, "jobs became easier to get." She continues,
Taking a man's name opened up a new world. It helped me earn double and triple the income of my true name, with the same work and service.

No hassles. Higher acceptance. And gratifying respect for my talents and round-the-clock work ethic.

Business opportunities fell into my lap. People asked for my advice, and they thanked me for it, too.

Did I quit promoting my own name? Hell yeah.
Under her male name, James made enough money to buy a small house and give her kids a comfortable life. She's only coming out now because "someone I trusted got mad and decided to out me" (a motivation with echoes of Belle de Jour). Interestingly, the copywriting and web design blog she owns (whose About Us section reads, "Owner James Chartrand is the pen name of a female thirty-something copywriter, problogger and online entrepreneur from Quebec, Canada") has a very stereotypically male aesthetic, with a bullet ripping through its title, Men with Pens. The About Us section even describes another female blogger as "the team's rogue woman who wowed us until our desire for her talents exceeded our desire for a good ol' boys club." Chartrand's disguise was, it seems, rather thick.