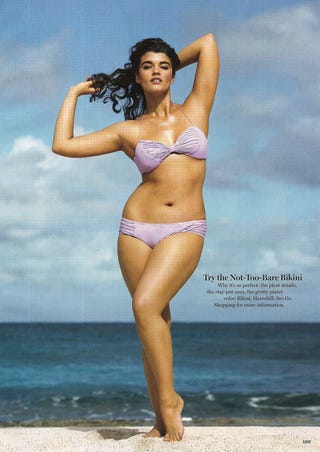 Sometimes ideas in edgy fashion magazines end up going mainstream and show up in glossy corporate-owned ladymags. But in a reversal, V Magazine's January issue will feature plus-size models, months after Glamour's plus-size issue. V editor-in-chief Stephen Gan says:
"Big, little, pint-size, plus-size — every body is beautiful. And this issue is out to prove it."
V Magazine launched in 1999, and usually alternates between celebrity covers (Brad Pitt, Lady Gaga, Grace Jones) and model covers, as seen below: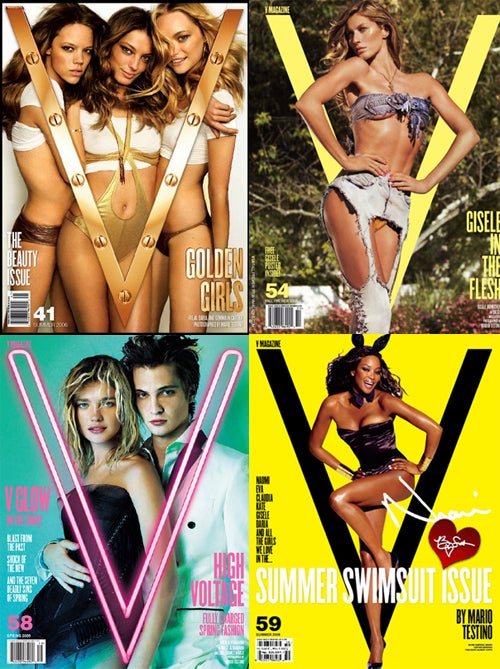 But for V's January issue, expect to see Crystal Renn (that's her, at the top of the post, in a shot from the May 2009 issue of Glamour) and other plus-size models, shot by Terry Richardson, Bruce Weber and Karl Lagerfeld.
Some problems:
Lagerfeld, you may recall, once said: "No one wants to see curvy women. You've got fat mothers with their bags of chips sitting in front of the television and saying that thin models are ugly."
Since V usually uses "regular" models — especially for its "beauty issue," how does a one-off plus-size issue "prove" that "every body is beautiful"?
Much like when Italian Vogue did an "all-black issue," the flipside of highlighting one kind of model in a "special" issue is that they're actually being segregated, placed in a ghetto, away from the other "real" models.
This is mentioned often on this site, but worth repeating: A plus-size model is not the same as a plus-sized woman. A "plus-size model" is a model who is at least 5'9" but has measurements above the requirements for "straight size" models, which are, roughly, 34-24-34. Basically, a plus size model could be a US size 8, 10 or 12, despite the fact that those sizes are not considered "plus" by clothing manufacturers, So they don't exactly represent plus-sized women.
Of course, the other side of the coin is that
any
time there's diversity in the types of women elevated and glorified by magazines, it's a good thing. Because using makeup, fashion and photography, magazines represent a fantasy — but
all
types of women deserve to see themselves reflected in that dream.
Heavy Changes
[Page Six]
Earlier:
Glamour Tries Not To Make A Big Deal Of Its Plus-Size Model
Glamour Shocks Readers By Featuring Plus-Size Model's Belly
Glamour's Plus-Size Model: "I'm Not Saying Size 2 Isn't Normal, But My Normal Is This"
Coming This Fall: More Naked Fat Ladies In Glamour!
Naked Fat Girls On Ellen! Sort Of!
Glamour's "Big" Issue: Plus-Size Models, Plus-Size Problems
Spot The Plus-Size Model In Glamour
Italian Vogue's "All Black" Issue: A Guided Tour
[Main image by Patrick Demarchelier for Glamour.]