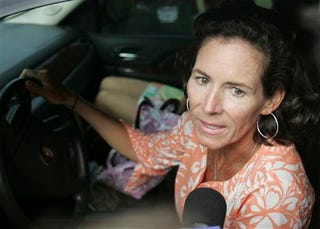 Mark Sanford says he wants to reconcile with his wife Jenny, who recently told Barbara Walters that she was "obviously not" his soul mate - but Jenny just filed for divorce.
The day after a South Carolina legislative panel decided to consider a formal rebuke against him (as opposed to the more severe impeachment) Sanford spoke to reporters about his marriage. Although he and his wife have actually been separated, he says he still wants to make a marriage work. He wouldn't say whether he was still in contact with the Argentinian woman he visited over Father's Day weekend, but he did say, "I'm not going back to June. We've had all those conversations." He added that he had visited his wife and children at the beach house where they're now living: "I mean, you may have missed it, but I mean I was down there last night and dropped by and saw the kids."
While Mark Sanford struggles to rehabilitate his reputation, his wife's star is rising. She appeared on ABC as one of Barbara Walters 10 Most Fascinating People of 2009, where she had the good and bad fortune to be able to make even more public statements about her husband's infidelity. Jenny Sanford seemed a little stiff, but she was candid, saying she was "obviously not" her husband's soul mate. However, she didn't rule out repairing the marriage, saying only, "I think the hurdles are significant."