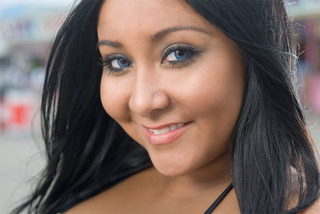 We're going to try a little experiment: that is, present a friendly male point of view once in a while. Today, writer Cord Jefferson responds to Jezebel commenters who weighed in on the sucker-punch heard 'round the reality TV world.
Like most people who succumbed to the sweaty, boozy, spray-tanned draw of Jersey Shore last week, I was taken aback when, during the highlights preview, I saw that twitchy lunatic haul off and smash Snooki in the face. The scene, like the punch itself, was jarring, mostly because, as a female friend of mine put it, "A man who does that is perfectly comfortable not even acting like he respects women." On top of that, that punch was hard. Nevertheless, Snooki's beating wasn't anything I considered unairable—not by MTV's standards, and certainly not by Jersey Shore's standards. In the series' first two episodes, for instance, not only do we see one of the male housemates punch another guy who was "lookin' at him" (which is every crazy jerk's Achilles' heel, by the way), we also see a man vomit all over a coffee table, women calling other women "whores," and, in the same preview reel containing the Snooki punch, several incidents of male-on-male and female-on-male violence.
Perhaps unsurprisingly, then, after first seeing Jersey Shore on Saturday, I didn't think much of Snooki or the punch until yesterday, when Irin posted "There's Nothing Funnier Than a Woman Getting Punched in the Face." After reading the post and the comments beneath it, I was again taken aback, though not by just the punch this time.