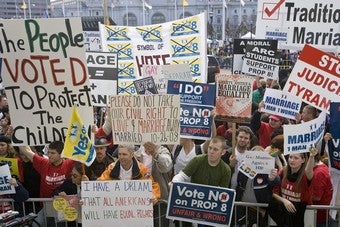 Philosopher Martha Nussbaum talks to The New York Times Magazine this week, and she has a lot to say about gay marriage, disgust, cockroaches, and leather.
Nussbaum's wearing some pretty kickass boots in the accompanying photo, and she mentions that the University of Chicago lesbian and gay alumni association thanked her for wearing leather to a speaking engagement. But the real meat of the interview is Nussbaum's take on relationships and marriage. She handily dispatches a classic Deborah Solomon underminer question, "Do you find it difficult being a single woman in her early 60s, in a culture that values youth over wisdom," thusly:
I think that's been overplayed. I'm just happy being myself. I sing for an hour before dinner, and right now I'm singing Cherubino's aria from "The Marriage of Figaro," and playing the part of a teenager is natural to me. I also go clothes shopping with my friends. It's one way I have fun.
Basically Solomon is saying "don't you hate being single, and also old?" And Nussbaum's like, "I'm busy singing opera, fuck you." But since marriage is just as important a subject for philosophy professors as it is for actors (as long as they're women), Solomon's gotta ask, "Do you think you will marry again?" Nussbaum says,