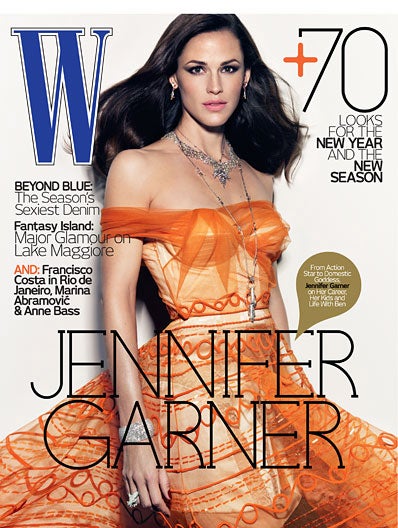 Jennifer Garner gets a profile and edgy black-and-white photoshoot in W because she's a famous Hollywood actress. But reading the interview, you get the idea that that's not who she wants to be.
For one thing, she tells W's Jenny Comita:
"I mean, I didn't ever watch Gilligan's Island and think, Those people are actors. I lived in West Virginia. Hollywood just felt like this total other universe."
Now that she's in that "universe," Jen could be flaunting her wealth and hobnobbing with all kinds of luminaries. But when talking about taking care of her kids, she says she has help, and then asks, "Does that sound snotty, to say I have help?" And instead of partying with Hollywood night owls, she is obsessed with celebrity chefs. She loves to cook, named her Labrador retriever Martha Stewart, and longs to be introduced to Ina Garten, aka TV's Barefoot Contessa (whom Comita describes as "cheerfully rotund.") Jen says:
"I know somebody who is a friend of hers, and she says she's going to get us together. I tried to get on Ina's show. I tried to use my, well, you know… I say, use what you have to make the world better or for yourself! But eventually she just said, 'I'm sorry, I only use my real friends on the show.' I felt like, What are you saying? That we're not friends? I know everything about you!"
Even though many of her movies — Daredevil, 13 Going On 30, Elektra, Ghosts Of Girlfriends Past — are not exactly winners, Jen is a celebrity, whether she wants to be or not. (Oh, and the flick she's pushing now? Valentine's Day? The one loosely based on: 1. A holiday and 2. The craptastic He's Not Just That Into You? Barf.) But yeah, she's a star, and not only that: She's married to a celebrity. Though she sees some differences between how the media covers Ben Affleck and how it covers her: