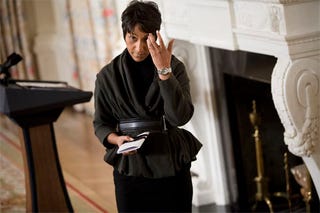 That's embattled White House social secretary Desiree Rogers talking about party crashers - in July. Before everyone decided she was a combination of Icarus, Marie Antoinette and Goody Good, and Maureen Dowd got the chance to be adorably witty!
Here's the whole quote, from BizBash coverage of a Creative Coalition-hosted Q&A with Rogers:
When asked what she does with event crashers, Rogers replied (to much laughter), that she's begun adding an extra table, row, or bench to every event she produces, as each time she found extra people would show up in hopes of gaining entrance. "Lots of people just come anyways, they won't take no for an answer," she said. "Finally I just said, 'Alright, come on in, it's no use kicking you out.'"
What a difference a few months makes: "hysterical witch-hunting" is, apparently, the new "much laughter." Because if you thought the finger-pointing (and gleeful references to Rogers' finery) was over, someone didn't get her "Weekender," in which the Times devoted a thorough "Styles" piece to analyzing the social secretary's fall under the rather meta guise of examining media scrutiny (a la Robin Givhan), and Maureen Dowd attempted (unsuccessfully, but none the less smugly for all that) to equate Rogers and Tiger Woods as fellow "perfectionist high-achievers brought low."(What, she couldn't work in the "Cougar Cruise" while she was at it?) Never mind that she'd already done a snarkfest on Rogers a few days ago.