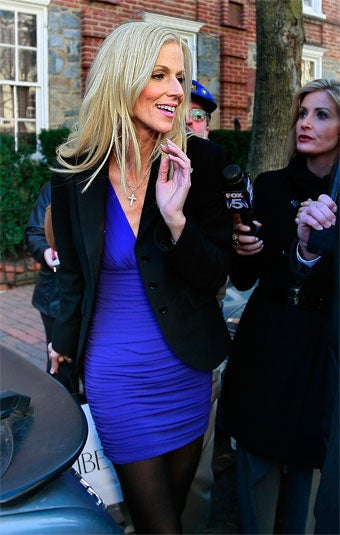 The Washington Post's Robin Givhan knows the real reason Michaele and Tareq Salahi got into the White House. "Call it tall, thin, white, blonde privilege," she writes.
Never mind the emails, the list, or whether there was an actual invitation. Givhan claims that the Salahis got into the state dinner because "they didn't look like interlopers, which is to say, they didn't look like poor cousins who had scraped together their last dime to buy some fancy frocks from the local thrift shop."
And, even more important, she asks:
The Salahis weren't on the guest list. But instead of turning them away, the Secret Service waved them in. Would they have been so gullible if it had been a young black man in a tuxedo or a short, squat, gray-haired woman in a modest black dress standing out there in the mist insisting that they were on the guest list? Maybe. But probably not.
It's hard not to agree: From fairy tales to Barbie to Marilyn Monroe to glossy ladymags, the high-fashion runways and flicks like Legally Blonde, the iconic blonde is the one who gets all the attention, who people want to be around, who gets what she wants. As Givhan puts it: