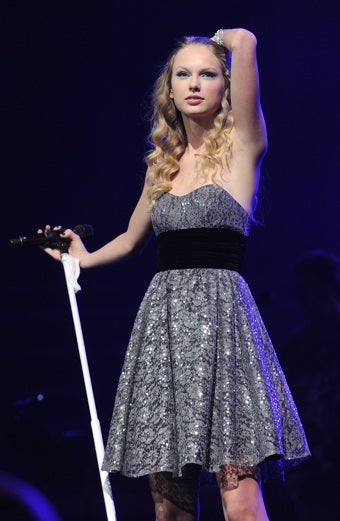 Unlike seemingly everyone else in the universe, Taylor Swift is having an excellent year. 2009 has been remarkable for Swift, who has seen her career take off in a fairly astronomical fashion. But is she being set up to fail?
Though Swift's career was already in pretty great shape leading up to the now-infamous Kanye West incident at this year's MTV Video Music Awards, she has been seemingly inescapable ever since; she's hosted Saturday Night Live, she's on the most recent cover of In Style magazine, she's reportedly in a tabloid-teen-dream-worthy relationship with New Moon star Taylor Lautner, and her album is currently racking up multiple end-of-the-year awards and accolades, including 4 CMA awards, 5 American Music Awards, and 8 Grammy nominations. It has been the year of many things, most of them craptacular, but as a commenter on a new profile of Swift in the New York Times' T Magazine writes, Swift is "one of the brightest stars in a really dark year."
Of course, with great success comes great scrutiny; as Kate Harding notes in a piece for Broadsheet, Swift's super wholesome image and princess-fairy-tale lyrics have made her a target of bloggers such as Sady Doyle and Amanda Hess, who feel that Swift's music and public persona "reinforce some not-so-woman-friendly stereotypes in extremely annoying ways." Yet Harding also notes that though Swift's lyrics leave something to be desired, her songwriting abilities, which allow her to have some control over her own music and career, are worth celebrating: "It will be a great day when more female artists are calling the shots, topping the charts and writing lyrics that don't make me cringe — but two out of three isn't a bad start."
My feelings toward Swift are similar to Harding's; for every aspect of her princess-fantasy image that irritates me, there's something sort of refreshing about a teen pop star who writes her own songs and doesn't feel the need to hump an ice cream truck pole in order to drum up a bit of publicity for her record. However, there's also something about icky about the fact that Taylor Swift's fame rests on an image of purity, on a perception of niceness, on her imperfect-to-the-point-of-being-relatable voice and lyrics that read like they were written in a dreamy high schooler's diary, most likely because they kind of were written in a dreamy high schooler's diary.