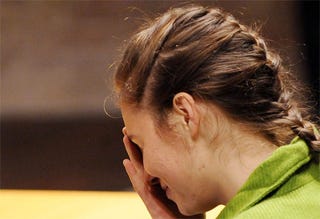 Roughly two years after Meredith Kercher's body was discovered in their shared Italian cottage, and nearly a year after her trial began, American exchange student Amanda Knox (and her former boyfriend, Raffaele Sollecito), has been found guilty of murder.
After a trial that lasted 11 months, the jury took 11 hours to reach a verdict, returning to the courtroom at midnight to deliver the results of their deliberations. Knox and Sollecito were both found guilty on all counts and sentenced; Knox received 26 years in prison, while Sollecito faces 25. Knox reportedly sobbed as the verdict was read.
When we first discussed Amanda Knox on the site, in November of 2007, former editor Jessica Grose noted that the already-in-media-overdrive story was "a Lifetime movie waiting to happen." The story had all of the twisted details usually reserved for "ripped from the headlines" episodes of Law & Order, and the story—Knox in particular—quickly became the subject of public fascination. The press jumped on Knox's MySpace nickname, "Foxy Knoxy," and the unfortunate moniker (as well as the femme fatale characterization attached to it) has followed her ever since.