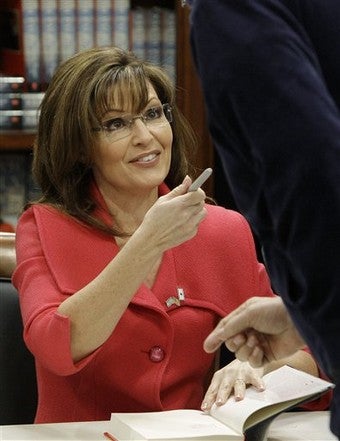 Yesterday afternoon former Alaska Governor Sarah Palin went where even Glenn Beck wouldn't, claiming that the American public is "rightfully" concerned about Obama's birth certificate. And her Facebook friends are loving it!
On his talk radio show, conservative host Rusty Humphries asked Palin, "Would you make the birth certificate an issue if you ran?" She replied,
I think the public rightfully is still making it an issue. I don't have a problem with that. I don't know if I would have to bother to make it an issue, because I think that members of the electorate still want answers.
Palin later said the question about Obama's birth was fair because of "the weird conspiracy theory freaky thing that people talk about that Trig isn't my real son — 'You need to produce his birth certificate, you need to prove that he's your kid,' which we have done." Of course, Palin has said in her book and elsewhere that questions about her family aren't fair game, and to go back on this in order to protect a group of racism-tinged conspiracy theorists is both inconsistent and disingenuous. But that doesn't stop Palin from expanding on the argument on Facebook. Here she writes,
Voters have every right to ask candidates for information if they so choose. I've pointed out that it was seemingly fair game during the 2008 election for many on the left to badger my doctor and lawyer for proof that Trig is in fact my child. Conspiracy-minded reporters and voters had a right to ask... which they have repeatedly. But at no point – not during the campaign, and not during recent interviews – have I asked the president to produce his birth certificate or suggested that he was not born in the United States.
Which is an awesome example of defending idiots while sort of claiming to be smarter than them (her note is titled "Stupid Conspiracies"). Gawker's Azaria Jagger explains this strategy: