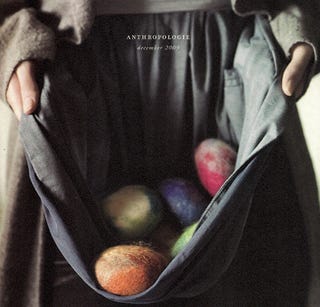 Look around, make a sound… There's overpriced stuff to be found!
Forgive me if I revert to a 16-year-old Valley Girl version of myself, but ohmigawd, grody. This is soap wrapped in felt. My bathroom pet peeve is hair on soap. SOAP, BY DEFINITION, SHOULD BE CLEAN. If there's pube hair on your Lever 2000, your shower is VOID. Ew ew ew.
The sweater seems nice and all, but my lust is reserved for that Clothbound Penguin Classic version of Sense and Sensibility. Actually, my favorite designs in the series are the chandelier-covered Great Expectations and the peacock-feathered Picture Of Dorian Gray. You have Coralie Bickford-Smith to thank for the exquisite patterns.
This "message in a bottle" thingy is $16 for a little glass jar and some blank paper. Blink. Blink.

Is the "in-the-clouds scarf" pretty, in a shabby chic/grandma's attic kind of way? Yes. Is it $168 pretty? No.
Someone's been in the Ugly Betty wardrobe department.
My problem with Shabby Chic is my same problem with Olsen twins chic. It's not hip to be homeless, so why is it hip to LOOK homeless? Derelicte your own balls.
The "noble lore" blouse is probably cute and Blair Waldorf-esque, but the "hazy" photo treatment makes it hard to tell. It's worse than the time they shot shit underwater, because it makes me feel like I have glaucoma.