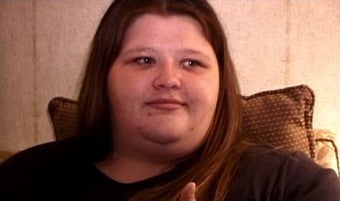 In a disturbing essay in today's Guardian, Lionel Shriver (not pictured) writes about her brother's obesity, and why she can't fully get on board with fat acceptance.
Shriver writes that her older brother is "a sadly good test case for the claim that one can be 'healthy at every size.'" He weighs 330 pounds, and suffers from compressed vertebrae, diabetes, emphysema, and heart problems. Shriver says he received serious injuries that left him unable to exercise, but that "he also eats too much." And while she has "buckets of sympathy for the obese" and "respect [...] for their feelings, for their humanity," she also writes,
I won't simply accept that my brother is fat. And his only chance at a future is to refuse to accept himself that his weight gain is irrevocable. [...] My brother is only 55, and without drastic intervention – gastric bypass surgery or a sudden resolve on his part that I fear is unlikely – I doubt he'll see 60. My brother is eating himself to death. I love him dearly, and I can't support any political movement that would have him believe he can be "healthy at any size."
Shriver's piece is heart-wrenching to read in light of its coda — her brother died of cardiac arrest soon after it was written. Even without this information, Shriver's concern for her brother's well-being is palpable — she's not that family member who says "I'm just worried about your health," but really wants you to fit into a size 4 dress. Not all fat people are healthy, and it's possible that losing weight would have improved Shriver's brother's life.
But. Health At Every Size did not kill him. First of all, fat acceptance doesn't mean believing every fat person is in perfect health — fat people with cancer obviously still have cancer, no matter how you feel about their weight. Being fat does seem to raise the risk of some health conditions — but so does being thin. Ultimately, the message of Health At Every Size isn't that fat people suffer no health problems, it's that the way to combat health problems (usually) isn't major weight loss — because most of the time it doesn't work. Would weight-loss surgery have extended Shriver's brother's life? Maybe, but the surgery carries risks too. And whether or not he might have benefited from some sort of drastic intervention, the message of Health at Every Size isn't that he was healthy, or that he should have simply ignored his diabetes or heart issues. In fact, it's possible to believe in fat acceptance and have weight-loss surgery. What's not possible: that a movement that teaches that you can be healthy and fat made a man unhealthy.