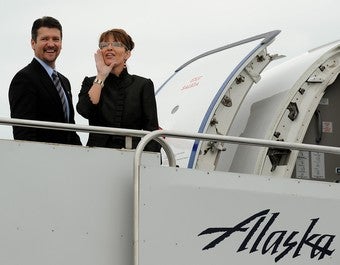 As Sarah Palin's "bus" tour rolls on, journalists are beginning to identify her as the leader of a new kind of populism. But this movement really just enshrines another elite.
In the newNew Yorker, Sam Tanenhaus writes,
Polls taken last November showed that [Palin] had alienated centrists, and a majority of people still eye her with mistrust. But this is beside the point. Populists, from William Jennings Bryan and Huey Long through Joseph McCarthy and George Wallace, have always been divisive and polarizing. Their job is not to win national elections but to carry the torch and inspire the faithful, and this Palin seems poised to do. That she is the first woman to generate populist fervor on such a scale enhances her appeal-and makes her, potentially, a figure of historic consequence.
That chilling last statement aside, Tanenhaus offers a smart analysis of Palin's inexperience and the political hay she's made of it — "her insistent ordinariness," he writes, "is an expression not of humility but of egotism, the certitude that simply being herself, in whatever unfinished condition, will always be good enough." Tanenhaus isn't the first to point out that Palin has elevated her lack of qualifications into a qualification — and indeed, she isn't the first to do this. But Tanenhaus does hint that when Palin positions herself as a woman of the people, she really only means certain people. He calls into question her claim "that Todd, whom she met in high school, is 'part Yupik Eskimo' and opened her to the 'social diversity' of Alaska" with the aside, "Wasilla is more than eighty per cent white." And of her year spent in college in Hawaii, he says,
'Hawaii was a little too perfect,' Palin writes. 'Perpetual sunshine isn't necessarily conducive to serious academics for eighteen-year-old Alaska girls.' Perhaps not. But Palin's father, Chuck Heath, gave a different account to Conroy and Walshe. According to him, the presence of so many Asians and Pacific Islanders made her uncomfortable: 'They were a minority type thing and it wasn't glamorous, so she came home.'
Tanenhaus also points out that Palin's tour has visited mainly small cities in the Midwest, where "minority type things" are rare. And, he says, "race is often the subtext of populist campaigns; their most potent appeal is to whites who are feeling under siege by changing economic and cultural conditions." Palin's not exactly under any economic siege — though her Going Rogue junket has been billed as a bus tour, she's actually traveling by $4,000/hr private jet, a fact she occasionally slips up and Tweets about. But Tanenhaus isn't the only one to see in Sarah Palin a new and disturbing brand of populism.