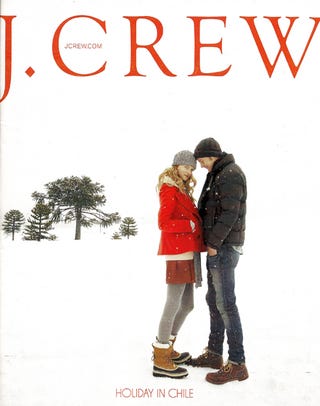 You see, Mr. Claus, I think we should talk about it.
Santa, it's kind of cool to send models to Chile's Andes Mountains and all, but really, even though the girl in the coat looks adorbs as she "poses" or drunkenly weaves through the snow, the dude in the poncho and hat in the back looks more interesting. Bad-ass, even. Even the horse is like, "Bish plz. Nay."
Santa, don't you love this shot? The textures and colors! And if you, Mr. Claus, feel bringing this girl a pearl twisted hammock necklace ($98) and a pearl-and-crystal avalanche necklace (135), that would be awesome, because I'm loath to pay those prices for them. And I've been good.
Have you ever tried this, St. Nick? Going out it lots of cute layers instead of a coat? Does it work for you? Really? Are you warm enough? Can you still move your arms? Huh.
Aw, Santa, as a girl who dresses up for Dorothy almost every Halloween, my heart skips a beat when I see glitter heels. Then again, I dig pretty much everything glittery here — the tank, the cardigan, the necklace.
Yum! Ladylike coats in sugary-sweet colors!
Ooh, this hearkens back to boat on dry land trend of 2008! Unless that's a frozen lake.