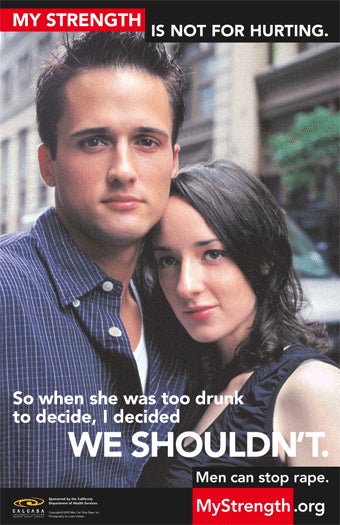 Asking men to visualize being raped is a graphic way to prove a point-but is it an effective strategy to prevent assault? College campuses around the country are beginning to adopt prevention programs and a new article examines their tactics.
On Sunday, the Chronicle of Higher Education published a piece exploring the struggles of colleges trying to measure the effectiveness of programs designed to reduce rape and sexual assault. These programs have shifted the focus from women to men - and have stepped up the idea that men can assist in preventing third party assaults.
The Department of Justice's Office on Violence Against Women gives grants to colleges to develop or strengthen various resources, including policies related to prevention, victim counseling, and training for administrators and the campus police in identifying and responding to sexual assaults.

Some colleges try to reach all their incoming freshmen during orientation, or work the training into their curricula, while others aim to reach a few hundred students a year. On some campuses, well-financed women's centers funnel thousands of dollars into the effort, while other colleges have found ways to educate a good chunk of students without a real budget, relying on student volunteers and fund raising.

The challenge for colleges is that even the best prevention strategies lack guarantees. "There is no magic bullet," says Paul Schewe, a psychologist at the University of Illinois at Chicago and director of the Interdisciplinary Center for Research on Violence. The field is relatively new to academe, and not all experts agree on the best approaches.
John D. Foubert, one of the pioneering instructors, believes that one of the ways to stop sexual assault would be to focus on getting men to envision what it would be like if they were raped:
The program, which Mr. Foubert created in the late 1990s, consists of an hourlong workshop on sexual assault. The cornerstone of the program is a video that dramatizes the rape of the male police officer, which is both graphic and disturbing. And according to his research, Mr. Foubert says, the video increases men's aversion to rape while casting them not as potential abusers but as "potential helpers" who can help prevent assaults.

On its Web site, Mr. Foubert's organization highlights statistics from studies he has conducted on the program's effectiveness. It says that not only does the program improve men's understanding of how to help a woman recover from rape, but it also lowers "the likelihood of raping for an entire academic year-longer than any other program evaluated in the research literature." Furthermore, Mr. Foubert concluded that 75 percent of "high risk" men who attend his program report lower likelihood of raping after the program concludes.
This sends up some red flags. One, who determines who is high risk? Anyone is capable of sexually assaulting someone else, and while it may help deter men in social settings where a lot of peers are egging on forcible contact, it doesn't really stop one-on-one occasions like acquiescence rape. Secondly, are these statistics based on self-reporting? As we've seen before, many people will dance rings around the word "rape" without realizing that their behavior falls squarely within the definitions.