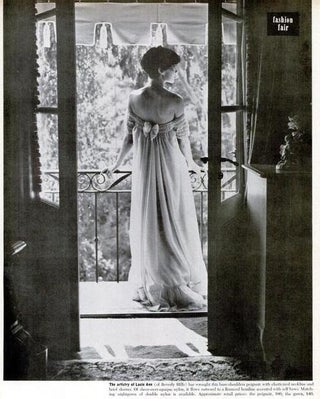 S
B. Vikki Vintage is a blog (and an Etsy shop) highlighting vintage images of African Americans. After the jump, a walk through fashion history.
S
One of the greatest fallacies about history is the belief that what is commonly presented to us as our past is somehow a complete history. Somehow, the realities that millions of Americans lived were white-washed from history books and often do not return. B. Vikki Vintage's blog is valuable in that it reminds us that the American experience was broad and all-encompassing.



S
These students are walking to a Negro College Aid function, while still fashionable. Love the dress on the right.



S
I have nothing to say but: bad-ass.



S
Back when homecoming was an event.



S
This scene took my breath away. It belongs in a Turner Classic Movie.



S
At some point, petticoats came back in style.



S
We even had pulp comics (which I am now obsessed with).



S
Some things never go out of style. I'd put this on and happily walk out the door.



S
This type of pose - allowing the fabric to billow around the body - was super popular. It appears in many of the homecoming photos on the B. Vikki vintage site.



S
The caption reads "What a difference a year makes!" As we transitioned from the 50s into the 60s, the Afro began to be a popular hair style option.



S
Her look is part-Mod, part-Twiggy, all fabulous.



S
Fixed up and looking sharp in suits, gloves, and heels.



S
And of course, Coca-Cola got in on the action.


Sarah Vaughn was doing her thing.


And so was Dinah Washington.



S
All this happened while women were working on breaking down barriers in all aspects of life.



S
And while we were fighting segregation.



S
As Restructure puts it so well: "People of colour are not a story of suffering . . . Or resistance. We are multifaceted."



S
What is important to remember that only by finding all the pieces will we, as Americans, have a clear understanding of our whole history. There are many people who were here, living, breathing, loving, dancing - and their stories have been deemed unimportant. I'm most familiar with African-American history, but there is also an Asian American History, a Latin American history, an Indigenous history - all of which overlapped with popular culture and helped to create our American tapestry. To be written out of history is one thing - to do so in a way that the contributions of others are completely forgotten is another. As Threadbared points out, there's still so much more to find.