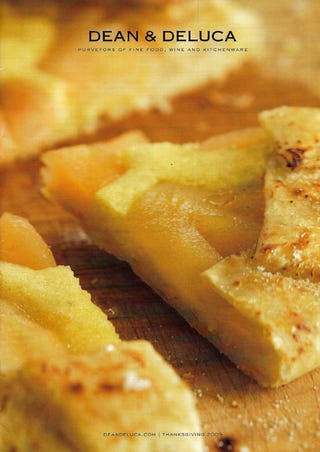 Team Turkey, Team Cake, Team Pie: There's something here for all of you! If you brought your credit card, that is.
This is a pretty interesting spread they've got going here: There's wine, but no veggies or bread. Just meat and dessert. Not that I'm complaining. Interested in doing a little shopping? The pecan pie is $65; the apple pie is $65, and you'll pay a $150 for that ham. Oh, the chocolate turkey centerpiece is $175 — more than the actual 14 lb. turkey, which rings up at $125.
The Turkey Roulade is layered with cornbread stuffing (made from cornbread, yellow onions, celery, cranberries, pecans and jalapeño peppers) but the Harvest Cornucopia cake sounds even better: Buttery almond cake layered with rich vanilla cream, frosted in chocolate buttercream and wrapped in dark chocolate. What if I don't want the weird marzipan fruit — just the frosting? Will that knock a few bucks off the $150 price tag?
This Berkshire boneless ham looks decent, but there's no way it holds a candle to the pecan-covered, bourbon-soaked ham my mom used to make. Before my sister became a vegetarian.
Sour cream apple walnut pie — made with Granny Smith apples, fresh sour cream, topped with brown sugar, cinnamon and walnut streusel — sounds really good right about now. But if you're going to spend $65, the "pie sampler" may be the way to go: You get to taste the walnut pie, the pumpkin pie, the pecan pie and the Mississippi Mud pie. We discussed the pumpkin cake earlier, so let's move on to some other cakes…