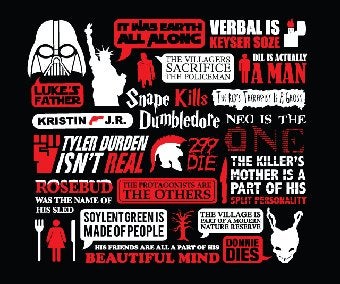 This weekend, I was at Hamlet and an elderly woman in the next row whispered loudly, "do Hamlet and Ophelia get married?" A rarity in our spoiler-troubled times! Lately, spoiler alerts - or lack thereof - have been raising hackles:
This is a modern problem. In the days before all this technology, everyone watched the same things, at the same time. If you missed a TV show, you were SOL - but you didn't miss it. And should you, you didn't risk running into anything more hazardous to the enjoyment of a plot twist than a mouthy coworker. Of course, there were still twists: Psycho's publicists went to famous lengths to keep the plot secret, and a recent trailer I saw for Spencer Tracy's 1941 Dr Jekyll and Mr. Hyde requested that the audience not "tell their friends" about the actor's dramatic transformation.
But clearly, it's become an issue, especially with must-see series like Mad Men, that people are as apt to watch a few days or even months after airing as not. It's something we run across a lot on this site: how much to give away? What's fair game? How much is universally known? January Jones has gone on record in her belief that, once aired, the term "spoiler" isn't applicable. And this increasingly rigid definition is gaining ground amongst those who are sick of tiptoeing around the viewing habits of others.