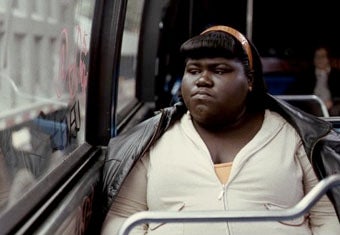 The reviews are in for Precious, and though some critics object to director Lee Daniels' "need to shove the reality of Precious' life in our faces," most say it's a brilliant film about hideous truths Hollywood usually ignores.
Precious, which opens today in New York, Los Angeles, Chicago, and Atlanta, is based on the novel Push by Sapphire and executive-produced by Oprah Winfrey and Tyler Perry, who came on board after its screening at Sundance. The film is set in late 80s Harlem, where 16-year-old Claireece Precious Jones (Gabourey "Gabby" Sidibe) is facing more hardships than it seems one person should ever endure. Her mother Mary (Mo'Nique) physically and emotionally abuses her and she's pregnant by her drug addict father for the second time. She's illiterate and mostly quiet (at first), but has an elaborate inner life the film portrays in fantasy sequences. When Precious is threatened with expulsion because she's pregnant she's offered the chance to transfer to an alternative school. Her new teacher, Blu Rain (Paula Patton), and Mrs. Weiss (Mariah Carey), a social worker, help Precious begin to deal with the abuse she's suffering.
While a less elegantly done movie could have fallen into several syrupy clichés about underprivileged kids learning to love themselves with the help of an attentive mentor, critics say the film avoids these pitfalls. The story is inspirational and (as Latoya writes) surprisingly hopeful, but it doesn't gloss over the ugliness of Precious' life and she doesn't overcome a lifetime of abuse in two hours.