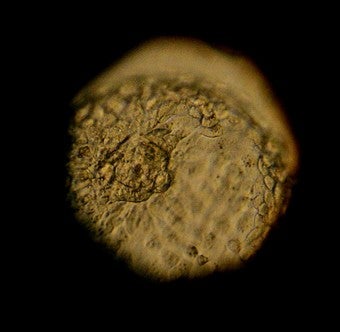 A new genetic test could predict whether women are at risk of early ovarian aging — and therefore reduced fertility — while they're still young enough to plan ahead.
An at-home test of a woman's current ovarian reserve — and thus her likelihood of being able to conceive — has been available since spring. But Norbert Gleicher of the Center for Human Reproduction thinks he can go a step further, using a woman's genes to predict when her ovarian reserve will begin to fall. He has discovered that variations in the Fragile X or FMR1 gene are associated with early ovarian aging and thereby with an early drop in fertility. By testing this gene, he believes he can predict whether a young woman is at risk of early ovarian aging, and thus help her make decisions about when to try to conceive. Gleicher says,
Then you can sit down and have a discussion about her reproductive life plan. In other words, 'do you want to have your kids before you get your PhD, or afterwards?' If the answer is 'afterwards', OK, but maybe you want to freeze some eggs.
Of course, it's not quite that simple. Egg freezing, for one, is expensive and not a sure thing. And critics of Gleicher's research say he still needs to do follow-up studies to determine whether women with the genetic markers for early ovarian aging actually have trouble conceiving. Writing in New Scientist, Linda Geddes says,