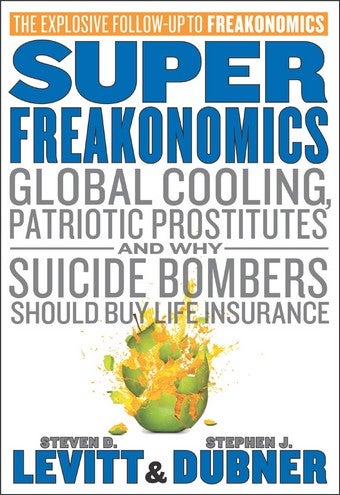 Steven Levitt and Stephen Dubner, authors of Superfreakonomics, cast themselves as iconoclastic contrarians. But in many ways, their book is actually pretty conventional.
In an "explanatory note" on the text, Levitt and Dubner admit (in somewhat disingenuous "we're-so-bad" fashion) that their previous book, Freakonomics, lacked "a unifying theme." Superfreakonomics sort of has one — the authors write in the introduction that "it seems to be part of the human condition to believe in our own predictive abilities — and, just as well, to quickly forget how bad our predictions turned out to be." Their aim is to provide a lighthearted and eclectic corrective to this stodgy short-sightedness — a challenge to the status quo, complete with jokes.
Some of their revelations are quite interesting. Particularly timely in light of the recent horror in Richmond is their takedown of the standard view of the Kitty Genovese story. Genovese's death has become a symbol of the apathy of Americans — and New Yorkers in particular — in the face of suffering. A New York Times account of the event famously began, "for more than half an hour 38 respectable, law-abiding citizens in Queens watched a killer stalk and stab a woman in three separate attacks in Kew Gardens. [...] Not one person telephoned the police during the assault; one witness called after the woman was dead." In fact, the number of witnesses was more like six, and one of them may have called the police in time to save Genovese — but they were slow to respond because they thought it was a domestic violence call. As Levitt and Dubner frame it, the Genovese story is less about uncaring bystanders and more about incompetent police and sensationalizing reporters. They roll this information together with a critique of modern altruism research to form a convincing argument that people at large are neither as evil nor as good as they're sometimes made out to be.