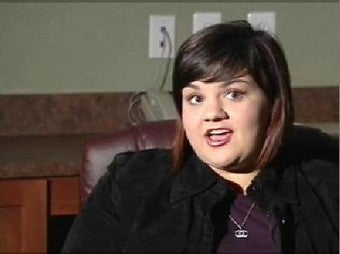 A reader who received abortion counseling from Planned-Parenthood-director-turned-anti-abortion-activist Abby Johnson (pictured) emailed to tell us Johnson was very familiar with abortion ultrasounds long before one supposedly caused her "conversion." Her email, and more questions about Johnson's story, after the jump.
The reader, who asked that we keep her anonymous, wrote (link ours):
I read your story and I live in College Station. I had an abortion at the Bryan Planned Parenthood location in July and she was my "counselor"....meaning she took me in the little office, I told her I was pregnant and wanted an abortion and she helped me pick which method (the pill...I was about 4.5 weeks) and schedule my appointment. This PP only does abortions on Saturdays with a doctor that comes in from Houston. She was there both the Saturday I was given the pill and the next Saturday when I had to come in for my follow-up ultrasound, so I'm not exactly sure how she could have thought an abortion meant you were going to shit rainbows. I can honestly say I am completely shocked. I was 21 and an atheist, and I didn't have any moral conflict about what I was going to do and I told her that. She was very understanding and matter-of-fact. I even started to cry (mostly because I was worried about what my boyfriend would say) and she comforted me. Her office was covered in pro-choice bumper stickers and buttons, and she didn't push the issue when she asked if I wanted to know about alternative choices. I also saw year about two years ago for birth control, so she has at least been there that long.