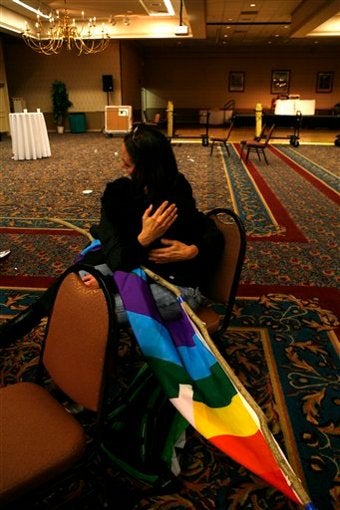 Last night, 53% of Maine voters won the right to dictate whom their fellow citizens can marry, voting to repeal a state law that would have allowed same-sex marriage.
Gay marriage opponents in Maine used the same strategist who got the job done in California, and the same bullshit. The Associated Press reports that the organization "Stand for Marriage based many of its campaign ads on claims - disputed by state officials - that the new law would mean 'homosexual marriage' would be taught in public schools." Apparently, not enough voters asked the obvious question: What the fuck does that even mean? They just heard "homosexual" and "schools" and decided it was worth showing up to take a stand against equality. Again.
National Organization for Marriage director Brian Brown "was elated by Tuesday's result, saying it shows that 'that even in a New England state, if the voters have a chance to have their say, they're going to protect and defend the commonsense definition of marriage.'" Which is exactly the problem. The states that have legalized gay marriage have done so "through legislation or court rulings, not by popular vote," while all 31 states that have put it to a popular vote have shot it down. Opponents of marriage equality see this as evidence that legislators are out of touch with the people and have no business telling folks what should and shouldn't be legal, conveniently forgetting that actually, that's what we elect them to do. Also, that when it comes to securing rights for an oppressed minority, if the majority would rather just keep on with the oppressing, our elected representatives and courts have a duty to stand up and protect more vulnerable citizens.