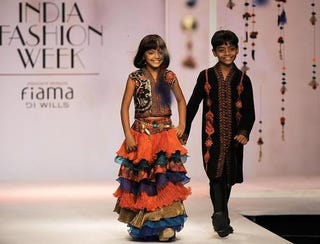 An article in Time asks "Has Fame Spoiled the Slumdog Millionaire Kids?" But I think that's the wrong focus. Instead I'd ask, "How do Rubina and Azhar decide what to prioritize in life?"
The article opens:
Young Rubina Ali's social diary has been more than full these last few months: a trip to Paris, a tea party in Westminster in London, a dance show in Hong Kong, product endorsements and numerous trips in and out of India for award shows and to promote the Slumdog Millionaire child actor's autobiography, Slumgirl Dreaming. However, the school she attends in Mumbai along with her co-star, Azhar Mohammad, is not happy with either her attendance or her attitude. School officials say that the little girl, who once always greeted her teachers politely in the morning, now disregards them - that is, when she finds the time to attend school. Her father defends her against her teachers, saying Rubina is just a child and is under a lot of pressure.
There are issues with both of the children attending school as promised. Despite the monthly stipend they receive for maintaining 70% attendance, both Rubina and Azhar attend school less than 40% of the time. Now, Rubina and Azhar are just kids - however, as children they're more easily manipulated. Time reports:
The Jai Ho trust was also charged with finding suitable housing for the children, outside of the slums. While Shamim and Azhar have moved to their new 250 sq.ft apartment in Santa Cruz West, Rafiq has refused to move out of the slum, saying that 2,500,000 rupees ($50,000) is not enough to buy a flat. "I wanted to live in Bandra, as it is near to Rubina's school and I don't want her to travel a lot to get to school everyday. Can you get a flat in Bandra for that amount? I asked them to increase the budget a little bit to around 4,000,000 Rupees ($80,000) so that I could buy a flat there. But they refused. So what can I do?"
Interestingly, in an earlier post exploring Rubina and Azhar's post-movie lives, the original reason for the reluctance to move was stated a bit differently: