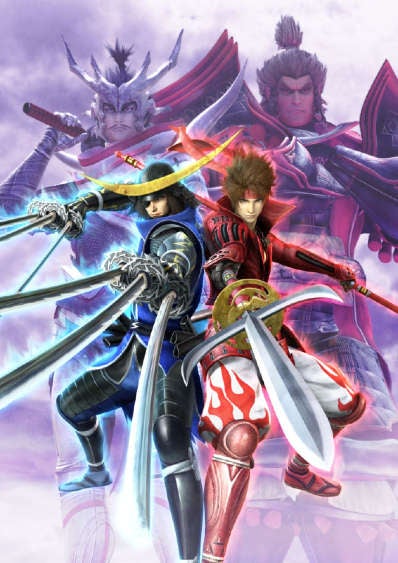 In Japan, women are going crazy over "Sengoku Basara, (Devil Kings)" a historical video game featuring sexy samurai warriors. Hiroyuki Kobayashi, creator of the game, wonders if women are reacting to societal shifts surrounding the role of men.
Hiroyuki Kobayashi, the game creator, opines:
From a social point of view, his experience is also interesting. He believes women are partly escaping into fantasy because they cannot find suitably heroic partners in real life. Capcom's samurai groupies may be the corollary of a widely discussed trend in Japan, that of "grass-eating men", who eschew the typical male trappings of cars and big salaries, and may prefer shopping and fashion to sex.
The Economist article refers to "grass eating men" which sounds a bit strange. The more commonly translated term is "herbivore men," (read: meat as a stand-in for manliness) and the Times of London explains why these men who are choosing a nontraditional lifestyle are capturing the attention of a nation:
Two phrases have been coined to describe them: soshokukei danshi or "herbivorous males", and Ojo-man – or "girly men".

Definitions vary, but the new herbivores could be described as metrosexuals without the testosterone. Although most of them are not homosexual they have in common a disdain for the traditional accoutrements of Japanese manhood, and a taste for things formerly regarded as exclusively female. Girly men have no interest in fast cars, career success, designer labels and trophy women. Instead, they hold down humble jobs, cultivate women as friends rather than conquests and spend their free time shopping at small boutiques and pursuing in Japan what is regarded as a profoundly feminine pastime: eating cakes.
(Aside: When Anna N. covered this earlier, some people expressed confusion about the reference to eating cakes as a feminine past time. Now, I'm just a pop culture junkie, not an expert on Japan, but the idea that men don't eat sweets is a prominent one. In addition to Men's Pocky, a less-sweet version of the popular snack, a popular trope is to show a man eating sweets to demonstrate how he is strange, different, or child-like. In the series Ouran High School Host Club, Honey-chan is a male host with a sweet tooth - along with a babyish demeanor.)