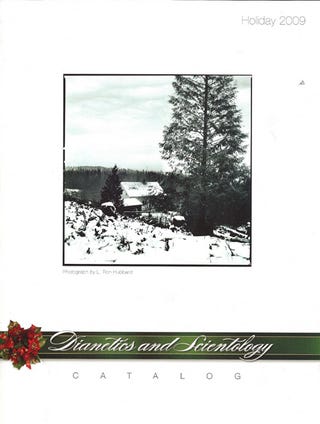 A million thank yous to the reader who mailed me the Dianetics & Scientology Holiday catalog! With so much crazytown inside, it's the gift that keeps on giving.
While Scientology has been going through tough times lately — a French court convicted the church of fraud and Oscar-winning filmmaker Paul Haggis resigned publicly — spokesperson Tommy Davis says the church is flourishing: assets and property holdings have doubled over the past five years. Is some of that cash from the catalog sales? Maybe!
Before you open the catalog, there's the cover picture — a snowy scene captured by world-renowned photographer L. Ron Hubbard. Or, as he was called by a former coworker, Enron Hubbard.
Inside, there's a picture of — and a letter from — Mr. Hubbard. The message reads: "Mankind's salvation lies within our hands. A very Merry Christmas to you all and a bright friendly new year." Has Hubbard been dead since 1986? Yes. But his message, about being a "help" to others, lives on!
Hubbard's hideous curtains also live on. Related: It's so disappointing that L. Ron didn't have the alien ornament from Bronner's. We don't know what Xenu actually looks like, but we doubt he has a goatee, like the BBC depicted him.