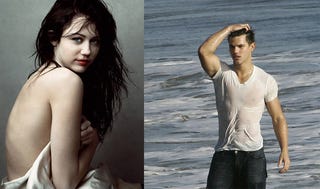 Considering people flipped out when 15-year-old Miley Cyrus was photographed wearing a sheet, yet pictures of 17-year-old Taylor Lautner shirtless and wet are all over magazines, websites and TV, Lindsay Robertson wants to know: Does Hollywood have a double standard?
Well, yeah.
It's not fair to moan about the sexualization of a young woman and then print lusty images of a young man. A minor is a minor is a minor.
But.
Here are my thoughts: We live in a world in which young women are sexualized way before young men. Suri Cruise is wearing heels; Catholic schoolgirls are seen as "jailbait"; countries have child brides; there are "Lolita" fashion trends. This civilization has a consistent history of the male gaze focused on underaged girls. Intellectually, I understand that young women are not weak, potential victims in need of our protection. Society's obsession with keeping girls from growing up too fast — from denouncing Slutoween to holding purity balls — can be grating. But for me, there is a difference between Miley Cyrus with tousled hair in a bedsheet and Taylor Lautner shirtless: You can see shirtless young men anywhere — playing basketball, at the beach. A 15-year-old, seemingly without a top on, in bed? That's taking it a step further.