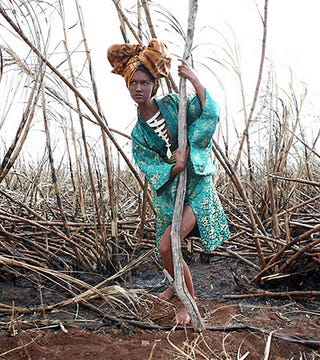 In a super-spoiler, ET posted pictures of the remaining America's Next Top Model contestants from a photoshoot in Maui. The concept of the shoot involves making the ladies look biracial. Meaning: some of the models are in blackface.
The episode airs tonight, but these pictures reveal that Nicole Fox, seen in the image above, has dark skin, a bone necklace and a West African-looking headwrap.
Nicole is actually a pale-skinned redhead.
Jennifer An, an Asian-American model from Philly, also appears to have had her skin darkened.
This is what Jennifer usually looks like.
This is Erin Wagner, as she appeared early in on the show — she's since received a makeover in which her eyebrows and hair were bleached.
In an image from the Maui shoot, you see she's getting some kind of textured wig, and you can clearly see the brown makeup that's being smeared on her arm.
Erin's shot from Maui is the "bi-racial" version of herself.
Since the recent issue of French Vogue features model Lara Stone in blackface, and Madonna has admitted that she did a blackface shoot, it begs the question: Is blackface somehow trendy?