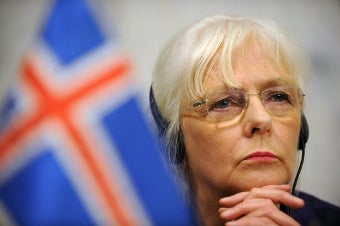 The World Economic Forum released its annual Gender Gap Index yesterday, and Iceland — that's Prime Minister Johanna Sigurdardottir, not only a lady, but the world's first openly gay leader, at left — kicks everybody else's ass at gender equality.
Which is to say, Iceland's not perfect, but none of the other 133 countries studied (representing 93% of the world's population) did better. Let's have a look at how that happened:
Iceland's women are surpassing Iceland's men in college enrollment and in attaining professional and technical jobs, and have achieved near equal labor force participation. The country also ranked No. 1 in political empowerment. While women there hold 43% of parliament seats and 36% of ministerial positions, Iceland also named a new female prime minister, Johanna Sigurdardottir, this year. The combination of powerful female role models and progressive government policies, like three months of paid maternity leave, are working to close the gap even further.
The U.S., on the other hand?
The U.S. fell to No. 31, down from last year's No. 27 ranking and even farther from 2006's placement at No. 23. The U.S. has always done well on measures of education and economic participation, but has been held back by mediocre scores in women's health and political achievement. The U.S. gap in political empowerment is below the world's average, having closed only 14% of its gap. This year, small changes in economic opportunity—female labor force participation and wage equality fell slightly—pushed the U.S. down the list.
And of course, we've still got it pretty good, in the big picture. Although 67% of countries were found to be improving in terms of gender equality, 33% are getting worse — and even a marked improvement is not always saying much in a world where women are still at risk, as Nicholas Kristof and Sheryl WuDunn have recently been reminding us all, of "sex trafficking, acid attacks, bride burnings and mass rape," not to mention dying in childbirth, contracting HIV, and simply disappearing. But of course, as Anna North pointed out, the increased attention to these human rights abuses tends to revolve around the idea that finally addressing them might lead to greater economic prosperity — with the fact that it might lead to fewer sick, abused, maimed, dead and missing women being presented as something of a bonus. And as she said, "What happens if women decide to spend their newly earned money on alcohol instead of their children's education? What if they spend it on weapons? And what if, even though they spend it on all the 'right' things, their countries still fail to develop economically? Treating women as agents of social change risks leaving them out in the cold if they don't effect the change we want."