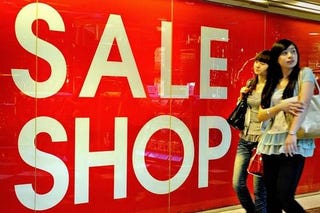 "The earning power of women globally is expected to reach $18 trillion by 2014 [...] That is more than twice the estimated 2014 GDP of China and India combined." The story of the current recession is definitely about women.
CNN asks if women are "saviors of the world's economy," noting increasing earning and spending power:
For companies, the growing economic power of women would seem an obvious market to capture. But according to a global study by the Boston Consulting Group, women feel at best underserved by companies, and at worst ignored.

"The current way companies appeal to women is to take a male product and paint it pink," said Michael Silverstein, a partner at BCG and coauthor of "Women Want More," a book based on the study results.

Shrink it and pink it strikes again! However, the most out of touch industry is also the industry that would most want to take advantage of women's new found wealth: