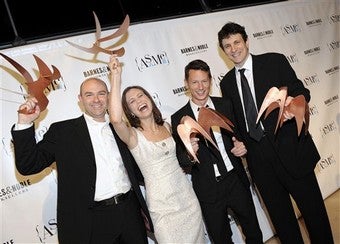 In Saturday's NY Times, former Portfolio editor Joanne Lipman attempted to critique the stalling of feminism in America. The result was so ham-handed and contradictory, it read like a tutorial on How Not to Talk About Sexism.
Early in the piece, called "The Mismeasure of Woman," Lipman (that's her in the white, lofting her National Magazine Award) writes,
The truth is, women haven't come nearly as far as we would have predicted 25 years ago. Somewhere along the line, especially in recent years, progress for women has stalled. And attitudes have taken a giant leap backward.
Kinda vague, but a worthwhile topic nonetheless. And Lipman does provide some sobering stats, like the fact that, "according to the American Bar Association, women in 2008 made up almost half of all associates, but only 18.3 percent of partners." After that, her essay pretty quickly goes off the rails. Both the NYTPicker and Gawker's Foster Kamer handily detail the ways Lipman's piece makes no sense. Kamer's right that the connection she draws between 9/11, the purported "end of irony" and boobs on the Internet is just bizarre, and the NYTPicker deserves props for pointing out that at least one of her allegations of sexism actually never happened — nobody called her career "leggy." But I'm not particularly interested in picking apart her arguments that sexism still exists — it does, there's better proof of it than appears in Lipman's piece, and there's no need to go into that here. What does bear some critiquing is her prescription for "chang(ing) the conversation," a vague phrase that appears to mean ending not just discrimination in the workplace but also misogyny in media and pop culture. Let's take Lipman's advice point by point (all bold is mine):