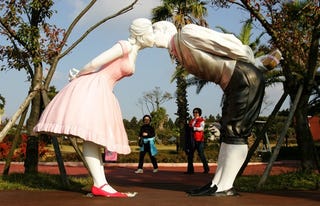 LoveLand is a South Korean sculpture park dedicated to sex, and is described by the park itself as "a place where sexually-oriented art and eroticism meet." They failed to note that certain portions of the park are actually quite creepy.
At Love Land, you can start with a kiss. Of course, the statue is derobed and is giving a puzzled sexyface, which adds a touch of creepiness. Also, I'd like to ask my mother and father, who read this site on the weekends, to turn back now, do not pass go, do not collect $200. And please say hello to the stork who dropped me off 28 years ago, because that bird is awesome. *fingers in ears* Lalala I can't hear you commenters lalalala!



There aren't any titles attached to any of these pictures, so I'm going to call this one "Futurama Porn." I'm also going to warn you guys that these get more graphic (and to some, perhaps, more disturbing) as we go on. Just a heads up.



This woman is not impressed with the giant masturbating lady beside her. Her expression says, "She's faking. Where's the concession stand?"



The park is meant to be a celebration of sexuality and a place for sex education, but this sculpture is just horrifying. A woman's body is half buried and a sign reading "high heel" stands next to it. It's incredibly disturbing objectification; I'm not sure what the focus on the heels as opposed to the woman is supposed to signify, but the whole thing creeps me out.



By contrast, I actually love this sculpture. The women seem happy, confident, and at ease with their bodies and their sexuality.



I think this is supposed to be Poseidon or some such, as the action is taking place on a wave, which I'd imagine is the kind of thing Poseidon would say if MTV Cribs ever visited his home. "This is the ocean, where the magic happens." The visitor is unimpressed. Perhaps sea statue porn is a tough sell?



Here, a man is objectified. He is no head, but he's still, um, very happy to see you.



Keeping with the objectification theme, here a torso and headless woman's vagina is shown as a box. "Subtle" is not on the radar at Love Land.



Men seem to have a physical advantage on women at the park, as seen here. I originally interpreted this as a symbol of power or control, though an astute commenter has changed my mind a bit.