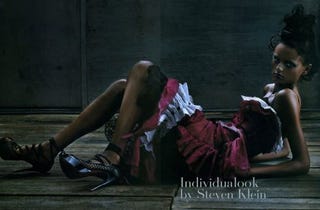 This ten-page Italian Vogue editorial from February, 2006, features two Caucasian models made up to look like black women. The photographer? A certain Steven Klein.
A tipster with an enviable magazine collection pointed us to this spread, which is still viewable on the American photographer's website. (It's collected with his 2005 editorial work for the magazine.)


In addition to often exploring themes of sexual violence and power in his work, Klein has a certain habit of changing models' skin tones with makeup. In September, 2008, American Vogue printed an editorial that featured the white Brazilian model Caroline Trentini painted the color of burnt Cheetos; earlier this year, in some work for Vogue Paris, Klein had Dutch model Lara Stone posed with male models who were made up alternately in a deep tan, presumably to contrast with her very fair skin, or in matte yellow and red. This month, of course, it is Stone whom Klein photographed in blackface.