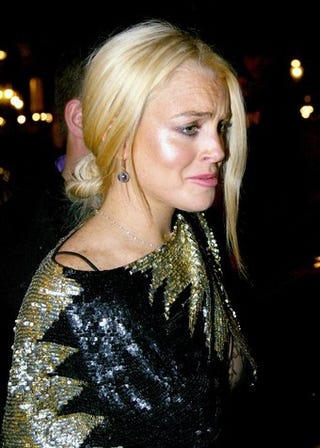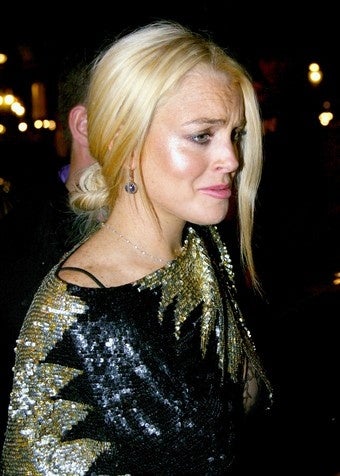 A judge ordered Lindsay Lohan to appear in court tomorrow for a progress report because officials from her alcohol education course reported concerns about her sobriety. If she violated the terms of her probation, she could be jailed.
Lindsay was ordered to attend the course after pleading no contest to a DUI in 2007. Usually in a misdemeanor case the defendant would not have to appear in court. [TMZ, TMZ]
Kate Gosselin says she might sue Jon Gosselin after hearing Stephanie Santoro's allegations that Jon bragged about hacking into her emails, phone, and online accounts. She said in a statement that she's "profoundly disturbed" and "Under the circumstances, Ms. Gosselin is carefully considering all of her legal options regarding this matter, and she will pursue them if and when the time is right." [Radar Online]
Roman Polanski's wife Emmanuelle Seigner attacked a female paparazzo who approached her outside her Paris apartment, punching and screaming at her in the middle of the street. [Radar Online]
Jimmy Kimmel's admission that he's dating staffer Molly McNearney is developing into his own sex scandal. Apparently he fired her ex-boyfriend, who was also on staff, before they started seeing each other. Molly and her ex used to double date with Jimmy and Sarah Silverman. [Radar Online]
According to the search warrant in the David Letterman extortion case, Robert Halderman met with Letterman's lawyer to present the incriminating documents and photos and demand $2 million from Letterman. The meeting was held and recorded and Haldeman was given a $2 million check. [TMZ]
The legal documents say Robert Halderman told the lawyer that David Letterman's "world is about to collapse around him," and that he had, "a lot more" documents to back up his claims. [AP]
At the link are pictures of Holly Hester, a woman who claims she had a relationship with David Letterman when she was an intern 20 years ago, goofing around in Dave's office. [TMZ]
Lawyers representing Michael Jackson's estate went to court today to ask a judge to give them more power to make day-to-day decisions without going to court. The judge put off the hearing until later this month. [TMZ]
Liza Minnelli says she and Barbara Streisand will attend Stanford and Anthony's wedding in Sex and the City 2: Electric Boogaloo and she will perform Beyonce's "Single Ladies." Liza says: "The choreography for the number is something I should have done when I was 22." [Contact Music]
A spokesman for director Hype Williams has confirmed that Beyonce and Lady Gaga will appear in the music video for Beyonce's "Video Phone." [MTV]
A source claims that Jennifer Aniston hooked up with John Mayer at a New York hotel in september. "He really got to her, and she's hooked on him," says the source. "She just can't let go." [Us]
Arnold Schwarzenegger's solution to Maria Shriver being caught talking on her cell phone while driving was to hire her a driver. [TMZ]
Leona Lewis, who was punched in the head by a man at her book signing yesterday, wrote on her website: "Thank you so much for your support it is truly overwhelming. Yesterday was a horrible shock and left me extremely hurt and upset. I'm very sorry to those I wasn't able to meet at the signing. Thank you again for all of the lovely messages." [People]
Police have charged 29-year-old Peter Kowalczyk with assault for allegedly hitting Leona Lewis and "sectioned" him under the mental health act — which means he's being held so doctors can evaluate him. [TMZ]
Leona Lewis was supposed to go to Germany today for a one day promotional trip but she cancelled so she could recover from the incident. [The Telegraph]
A second Billy Mays autopsy report says contrary to earlier reports, "there is no evidence that Mr. Mays' death was related to acute cocaine intoxication .... rather, the use of cocaine by Mr. Mays appears to have occurred at a remote time several days before his death." [TMZ]
The second autopsy was commissioned by Billy Mays' family. His widow Deborah Mays issued a statement saying: "In addition, there is nothing in his medical, social or professional history to suggest chronic cocaine use. Therefore, I do not believe cocaine played a significant contributing factor in the death of Mr. Mays as the autopsy specimens and findings are not consistent with the cardiac conditions normally observed in a person chronically using cocaine." [TMZ]
David Archuleta's parents have filed for divorce less than a month after his father, James Jeffrey, was arrested during a sting on a massage parlor for soliciting a prostitute. [Radar Online]
Paris Hilton says of the pet piglet she's purchased, "I'm getting her in a couple weeks. She's still a baby, so she's with her mom, getting ready for me. She'll be a perfect addition to the family!" [Us]
Kim Kardashian did a Barbie-inspired shoot for the cover of Kurv magazine. She says, "I absolutely love this photoshoot I did for KURV Magazine! I worked with the most amazing photographer, Tony Duran! This could be my favorite shoot to date!" [People]
Khloe Kardashian wrote on her blog, "According to Star, our marriage is on the rocks because I threw a fit when Lamar refused to give me a massage!!! I seriously died when I read that! LOL. Star is known for doing evil, fake and RIDICULOUS stories about my family. Remember the cover story, "Kardashians At War"? Honey please. They are becoming the Enquirer. Next thing you know they'll be saying that Kourtney is giving birth to a cat! LOL. All of their stories are absurd but at least we get a good laugh from their lies." [Khloe Kardashian Blog]
A-Ha will split up following a farewell tour next year. The band says the split will allow them to pursue "other meaningful aspects of life." [The Mirror]
Someone created a Rihanna tag on twitter and wrote: "The Wait Is Ova. Nov. 23 09." It's unclear if that's the date her new album is coming out. [CNN]
Russell Crowe and Elizabeth Banks were shooting a scene inside a van when a fire truck pulled out of a nearby station and hit the front of the van. No one was injured. [TMZ]
David Cook's "cougar," who is 9 years older than him, says he broke up with her because fans weren't happy about their relationship. Kim Johnston claims that Cook sent her a text reading: "Dude, I'm losing fans over this!" [Star]
George Clooney says false news stories leave celebrities with "no recourse... It'll be false, and you'll go, 'It's not true.' And they go, 'We're not saying that, we're saying that a London tabloid has said it.' They're just reprinting and reprinting things that aren't necessarily true." [AP]
Daniel Radcliffe has bought at $5.65 million brownstone in Manhattan that used to belong to a sea captain. [Observer]
A 38-year-old man suffered a fatal heart attack at a Kelly Clarkson concert at Boston University. [Boston]
According to an autopsy Sickle Cell Anemia may have played a role in the death of Ashley "A.J." Jewell of RHOA. He died in a bar fight but due to his condition he may not have been able to replenish the oxygen he lost during the incident. [TMZ]
Emilie de Ravin separated from her husband Josh Janowicz when she was filming Remember Me with Robert Pattinson. She and her husband have reunited but a friend says, "She was miffed that Rob went back to Kristen Stewart after the film wrapped... She liked him a lot." [Star]
Madonna says the past year, in which she got divorced and went on tour, was "challenging... I may have thrown myself off a building. I think work saved me and I'm very grateful that I had work to do." [Daily Mail]
"People have told me, 'you could just go out there and play guitar and sing your songs like Paul McCartney', but I'd be too bored. Most of the joy of the shows is the magic of creating them: theatre. I'm a perfectionist. I like hard work. I like to sweat." — Madonna [The Telegraph]
Some of Emily Mortimer's least favorite things are integrity, men in shorts, the sound of her husband clipping his toenails, and "how awful my boobs are when I'm pregnant." [Black Book]
Carey Mulligan says, "A lot of people go to university for the sake of it and I knew I would probably waste my time and other people's time so I tried to get into acting." [The Telegraph]
After hearing that January Jones was photographed in lingerie for GQ Bryan Batt said, "I'm in House Beautiful, thank you very much. In my bed, fully clothed. Please, people want to see January in her underwear. They don't want to see me in lingerie. Come on, who's not dying to see that? All the ladies on our show are uniquely beautiful in their own way." [N.Y. Magazine]
According to a Playboy press release, Marge Simpson said when her family learned that she posed for the magazine's November issue, "Homer said he was intrigued because he had never heard of [Playboy]. The notion of women posing in the buff was completely foreign to him. Wasn't it sweet of him to lie? When Lisa heard about this, she said it was empowering to see a woman in control of her own body. Wasn't it sweet of her to lie? Bart will never learn about this under any circumstance."