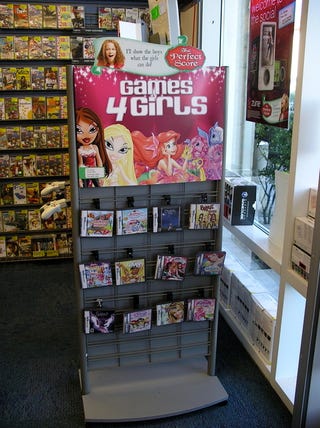 The Wall Street Journal just published a re-hash of the same article I've been reading for the last few years: Gaming marketers still don't know how to appeal to women. Here's a thought: segment the fucking market!
I've written about this before, in most directly for the online magazine Cerise. My colleague Andrea also had a regular series called "Market to Me," as kind of an open letter to the marketing arms of major games makers.
I mean, the statistics are fairly clear. When I reviewed the academic work Beyond Barbie and Mortal Kombat, the stats revealed some interesting trends:
The book's introduction lays out some pertinent facts: about 38 percent of video game players and 42 percent of online game players are female. About seventy percent of casual gamers are women. Estimates vary, but it is clear that women have become a major subgroup in gaming. Yet the industry still ignores them. [...]

The population that does play games is frequently seen as an anomaly rather than a prime informant for understanding how play works. Researchers, and people in the gaming industry, often talk about trying to capture that demographic of nonplaying "Vogue readers" to the exclusion of looking at the group that actually seems to be succeeding in inhabiting game culture now.
Instead of paying attention to why women play certain games or speaking to women who identify as gamers, it appears that game companies prefer to work with stereotypes. This isn't something that is characteristic to the gaming industry - it plagues advertising in general, as we last discussed when talking about the Femme Den and their aversion to the "shrink it and pink it" strategy of marketers trying to reach women. This attitude runs rampant at all levels of game marketing, from the games that are even recommended to women down to store displays.