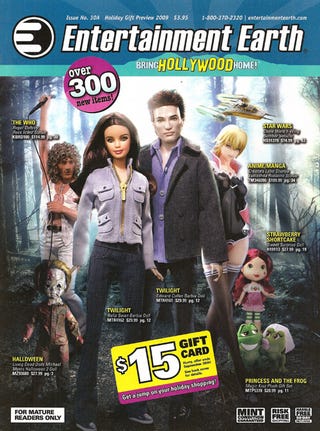 If you fantasize about remote-controlled zombies, Twilight action figures, mod Barbies or a doll of that new black princess from Disney's The Princess and the Frog, you're in luck: Entertainment Earth has what you need.
A remote-controlled zombie with a brain-shaped remote makes quite the stocking stuffer.
So many winners on this page, but the golden fertility idol pen holder and the Lost Ark bank are the ones that really caught my eye. The legless Short Round statue is terrifying, and the Delorean is cool, but not super useful.
Ooh — sure to be a hot toy come Christmastime! They made the doll of Tiana from The Princess And The Frog super pretty. The plush frogs are cute too, and there must be someone you know who's dying for a Slimer bank?
Attention Twihards! You can choose from THREE different kinds of Sparkle Vamp. There's the Byronic effete version; the über-pale Barbie version and the "very detailed" sick of Hollywood bullshit model. ZOMGSPARKLEVAMP4EVA! Question: Where is my Buff Werewolf? Team Jacob has been robbed.
In case you didn't believe that Robert Pattinson's glare had been recreated: Believe.
Prefer wizards to sparkle vamps? Draco Malfoy and Bellatrix Lestrange dolls should satisfy you.
Ben Linus bobblehead: Creeptastic!
Remember when Strawberry Shortcake got a makeover? This is what she looks like now. Shed a tear for your destroyed childhood.