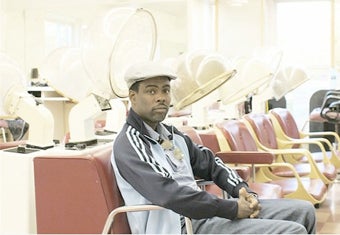 Critics say Chris Rock's documentary Good Hair, which opens today, is a fascinating, sometimes funny look at how black women style — and feel about — their hair. But, some say it doesn't delve deep enough into controversial issues.
Chris Rock, who co-wrote, produced, and stars in the film, was inspired to make it when his young daughter asked why she doesn't have "good hair." He decided to explore others' ideas of what constitutes "good hair" by visiting beauty salons, analyzing the chemicals found in relaxers, and interviewing celebrities from Eve to Al Sharpton to Maya Angelou about their hair.
Almost every critic praises Good Hair, but for the most part, their reviews stick to a summary of the film and analysis of Rock as host/narrator. Several say they found themselves surprised by the information presented - possibly because, judging from photos found online, none of them reviewers actually have black hair. While this latter fact doesn't disqualify them from critiquing the quality of the film, the reviews do come from an outsider's perspective, like The New York Times' take, which notes, "One of the happy consequences of Good Hair should be a radical increase in white-woman empathy for their black sisters."
Some critics do say the film doesn't adequately explore the gender politics of how black men feel about black women's hair, which Dodai worried about after watching a preview clip of men discussing their wives' and girlfriends' hair in a barber shop. The most in-depth analysis comes from Roger Ebert, who claims in his Chicago Sun-Times review that the kind of relaxer shown eating through a Coke can isn't commonly used. (Ebert, who is married to an African-American woman, also complains about Chris Rock seeming to advocate for "natural hair", pointing out that every woman, regardless of color, uses some type of product or treatment on her tresses.)