Last night, you sort of had to fall in love with Gordana a little bit. She's just so hardy! When other people bitch and whine, Gordana says:
"I come to America with nothing… At least I have my health." LOVE. HER.
So yeah, the challenge involved wedding gowns. Specifically: Taking divorced ladies' bridal gowns and turning them into something new for the "new chapter" of their lives.
Did you get a good look at Gordana's face when she saw the divorcées in white coming down the runway?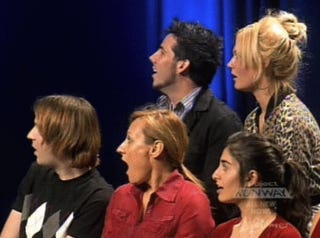 She has an awesome WTF face.



Leah: "I've been divorced for three months."
Gordana: "Congratulations."

Shirin's divorcée had a slender column dress, with not a lot of material to work with, and she had dreams of looking like Cher — a la "Half Breed." Shrin whined, "I can't do it," blah blah blah. Which was total bullshit. Have you seen Cher's "Half Breed" costume?
You don't need very much fabric at all!
Anyway, Shirin was frustrated, so she cried.
And sniffled.
And so on. The tender touch of Tim Gunn saved her from disaster.