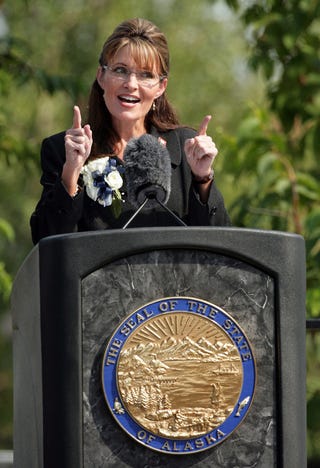 Sarah Palin will not go away, and people like Amy Siskind think appealing to our ovaries will make women support her in 2012. Let me tell them something: basing our votes on identity is an idiotic strategy!
Okay, let me get this out of the way first. Amy Siskind is not talking to me. Queen PUMA over there isn't counting us folks with brown vaginas, as we are all obviously going to vote with the brown parts, not the pink parts. So, once again, "women" really means "white women," which is who she thinks should be voting for Sarah Palin.
Siskind begins her Daily Beast article with the circular logic that will characterize the piece in its entirety:
I am a lifelong Democrat who for the first time in my life voted Republican in the 2008 elections. I did this for one reason: McCain selected a woman as his running mate. For this act, I was accused of having lost part of my mental faculty: Some circa Victorian act of "voting with my uterus." Strange, that. The Democratic women were corralled to vote for Obama in 2008 because of one issue: reproductive rights. n other words, as my friend Cynthia Ruccia observed, "voting with their uterus."
Siskind complains Obama did not appoint enough women, but ignores the creation of the Council on Women and Girls, and HRC's women-centric security strategy. A while back, I had asked what makes a presidency feminist friendly. While I still question the ultimate legacy of the White House, I am 110% sure that every feminist bone in my body is screaming at the thought of Palin anywhere near the Oval Office. Top five reasons why Palin makes me want puke in my mouth: