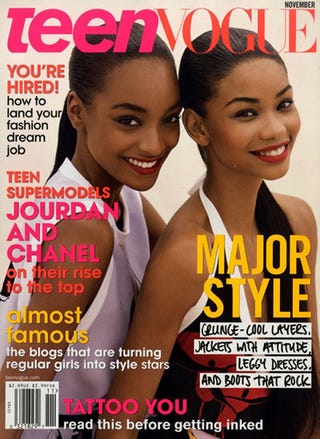 Teen Vogue has not one but two black models on the November cover. Inside, Chanel Iman says of Jourdan Dunn: "I could sit here and tell you, 'I love Jourdan! We've always been the best of friends!' But we haven't."
She continues:
"Until recently, we barely even spoke. We went from being superclose in the beginning," she says, "to dead silence if we saw each other backstage at a show." Not even a hello? "If we did say hi, it was hi, and that's it."
Why was there tension between the two ladies?
"It's competition," Jourdan says. "There aren't a lot of us, but instead of sticking together, we're pitted against each other. People will say things in Chanel's ear like, 'Jourdan is taking your spot,' and then they'll say to me, 'Don't trust Chanel.'"
Though Vogue's recent history with models of color has been to (mostly) ignore them, little sister Teen Vogue has been more inclusive: An Asian model appeared in the January 2009 issue; in November 2008, two brown-skinned models had a multi-page fashion spread. (At the time, we called them "black models," but Selina Khan is from the French-speaking Caribbean island Martinique and swears she's not black, but "Indian, mixed with Arabic and Creole, and Vietnamese." As for Austria Alcantara, she's Dominican. The point is: They're models of color and a change from the blonde women who are staples in Vogue publications.)