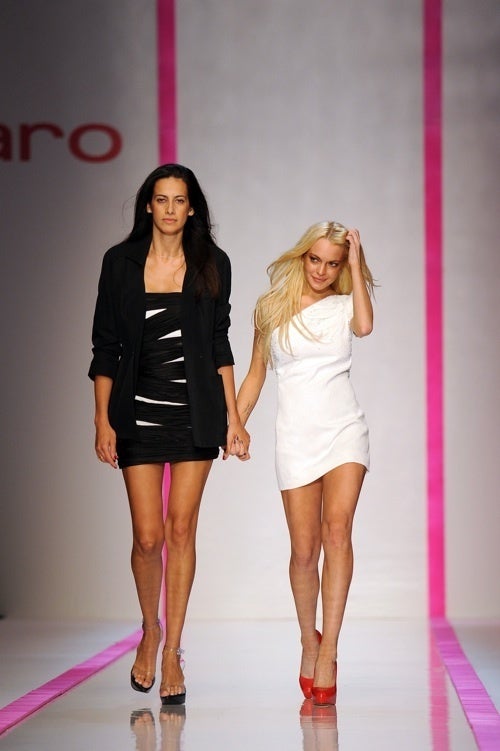 S
Lindsay Lohan launched her new career as artistic advisor for Emanuel Ungaro earlier this morning as Ungaro's Spring 2010 collection headed down the runway at Paris Fashion Week. So how did she do? Let's take a look.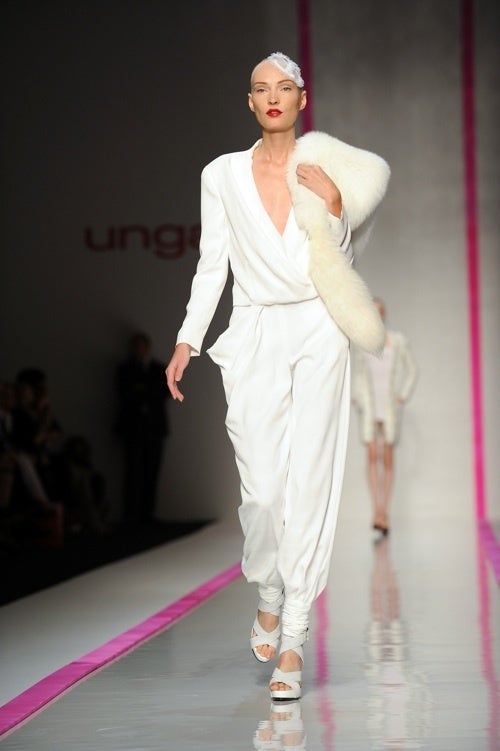 S
Lohan collaborated on the collection with designer Estrella Archs, and her influence can be seen in nearly every piece. It's not a secret that Lohan is a fan of old Hollywood glamour (particularly Marilyn Monroe), and I'm guessing this outfit was an homage of sorts.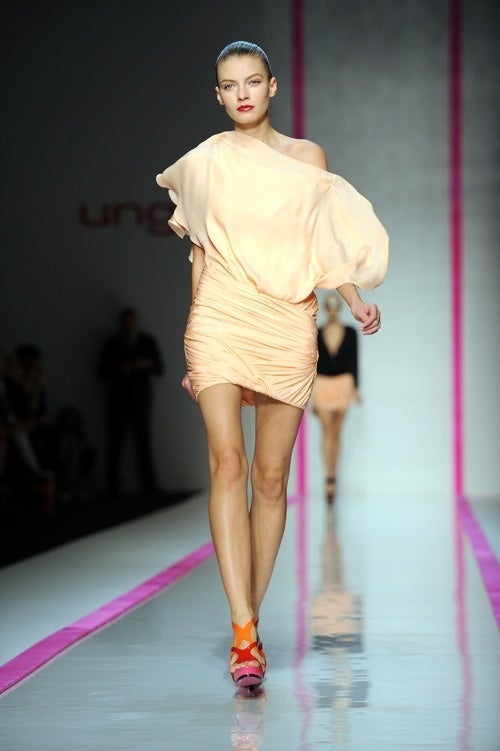 S
I'm not a fashion expert, by any means, but in covering the major shows over the past few weeks I've noticed that this peachy-nude color is quite a trend for Spring 2010. Hot color aside, however, I feel like I've seen this dress before.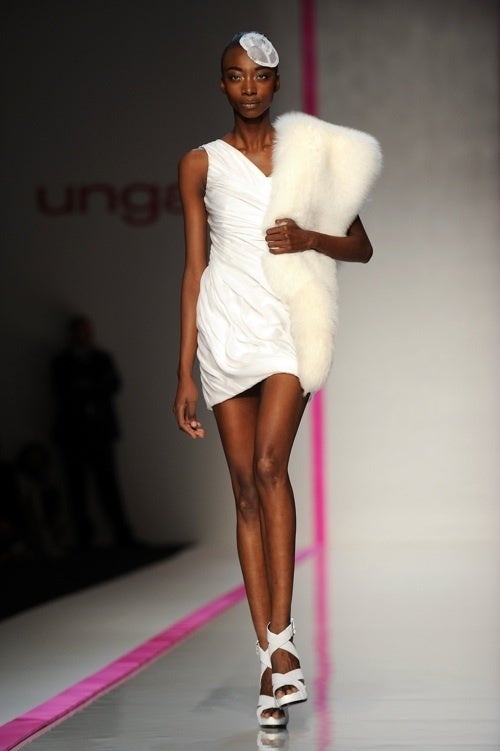 S
Lohan is a fan of short party dresses. I can see her wearing this. And many collections are featuring super-short cocktail dresses, so I suppose this fits in.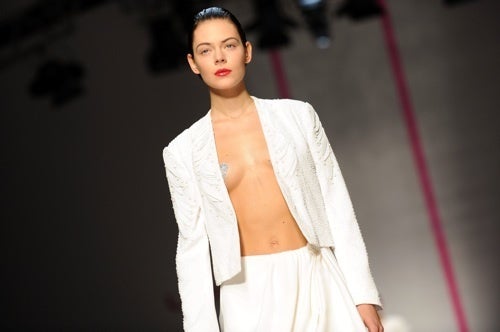 S
Here's where we start getting into trouble. The collection was inexplicably filled with tacky sequined hearts, including several heart pasties that just looked cheap on the Paris runway. Hilary Alexander of The Telegraph calls the pasties a "truly hideous fashion faux pas. Silver sequined "pasties", for example, belong in a lap dancing club unless you subscribe to a Jordan-esque dress code." Ouch.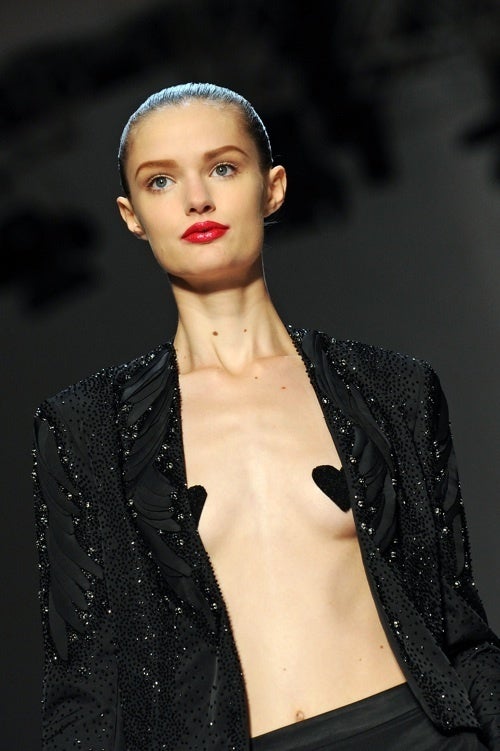 S
More pasties, more sighs.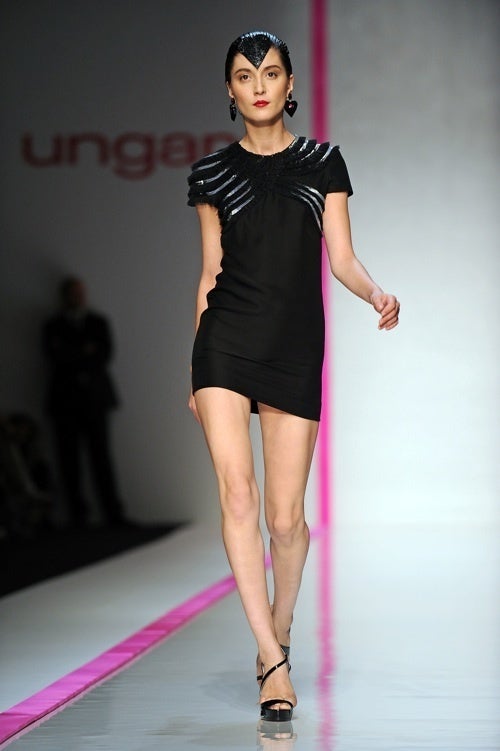 S
I actually thought this dress was pretty cute. Of course, if I wore it, I would have to be with a pair of Lohan's favorite article of clothing, leggings. Dun dun dun!!! Perhaps this was Lohan's master plan all along.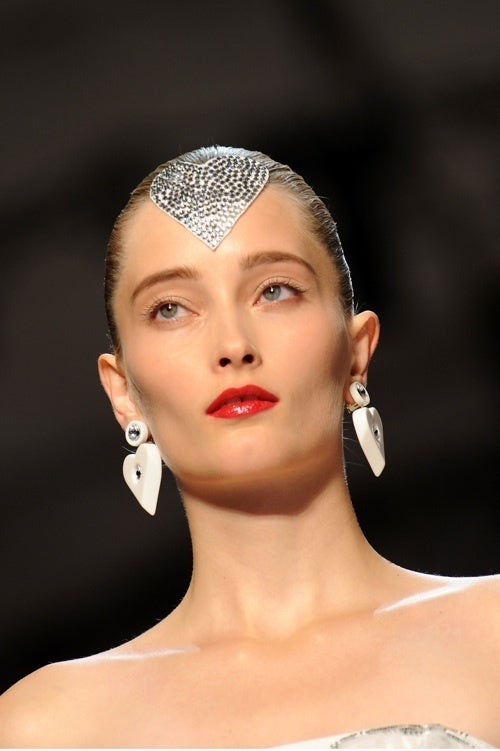 S
This is the face the model made when they told her she flew all the way to Paris Fashion Week to wear accessories that looked like they came from Claire's.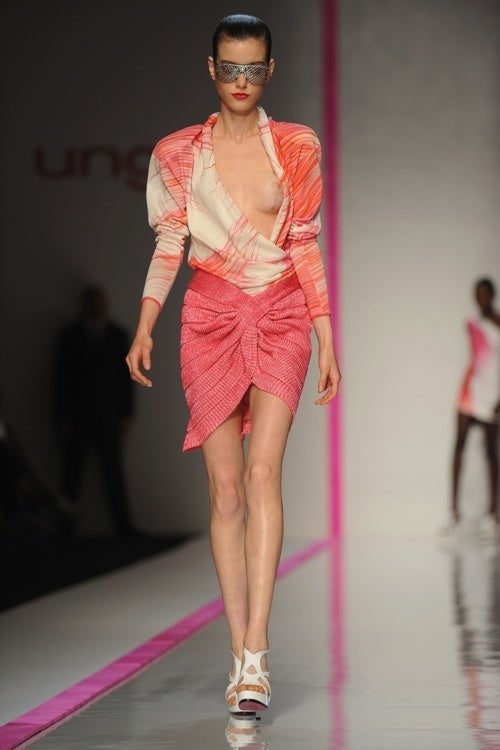 S
I'm not sure what's going on here, but it just seems...awkward.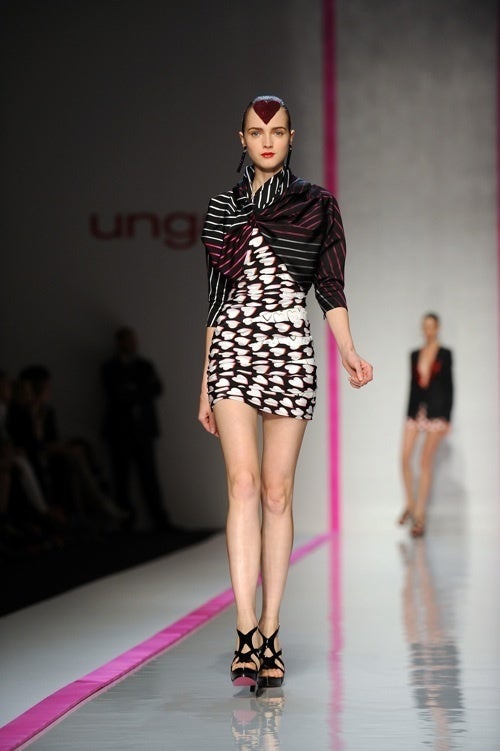 S
Sometimes, fashion offers too much, and it's a great thing. Here, too much is just...too much. The heart-shaped headgear sets it over the edge.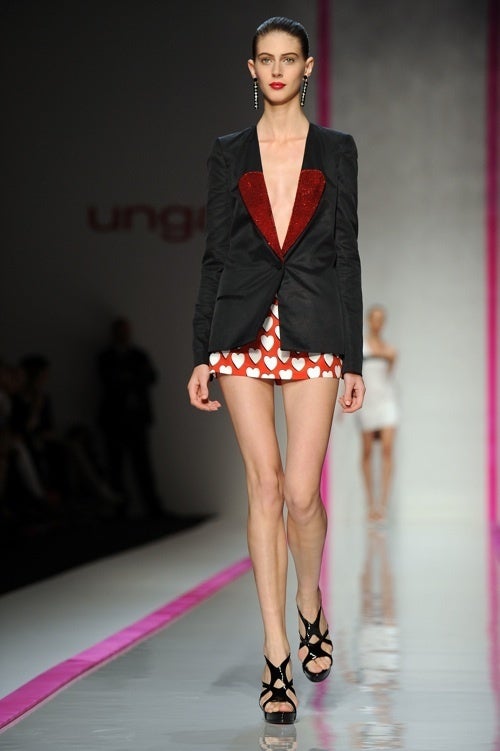 S
I can't decide how I feel about this one. What say you, commenters?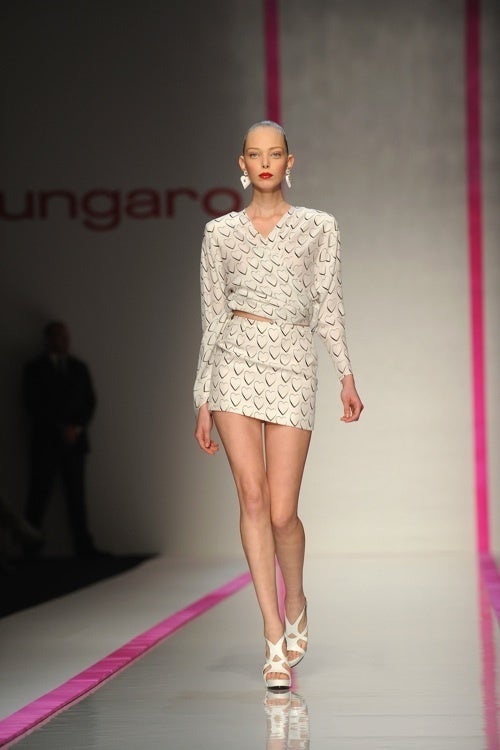 S
I'm not really loving the print on this one, and I think the print + the earrings is overkill. Again, I have no fashion sense, so please feel free to set me straight in the comments.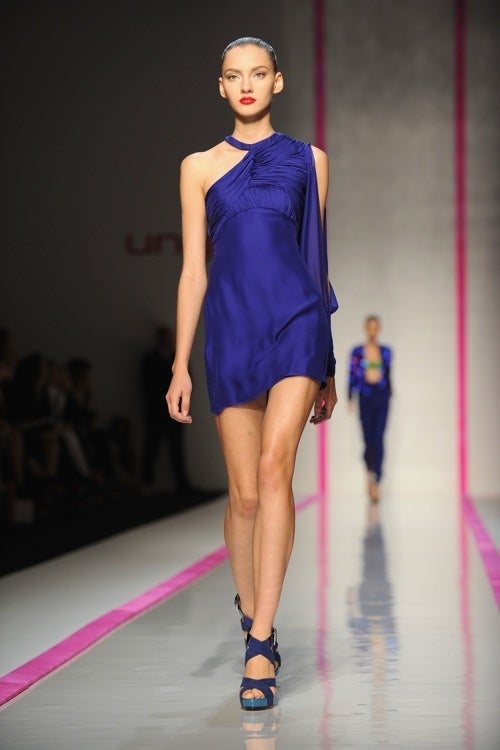 S
I love the color here.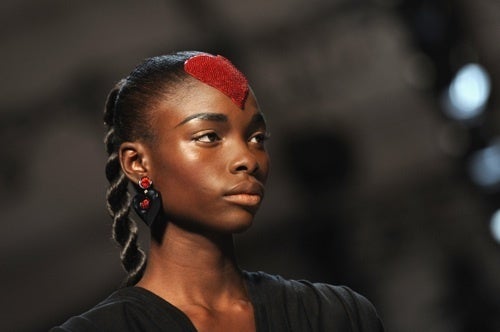 S
Jenny Barchfield of the AP calls the inclusion of these heart-shaped head pasties a "baffling move." I just think they contributed to the overall heart overkill running through the collection. They were just unnecessary.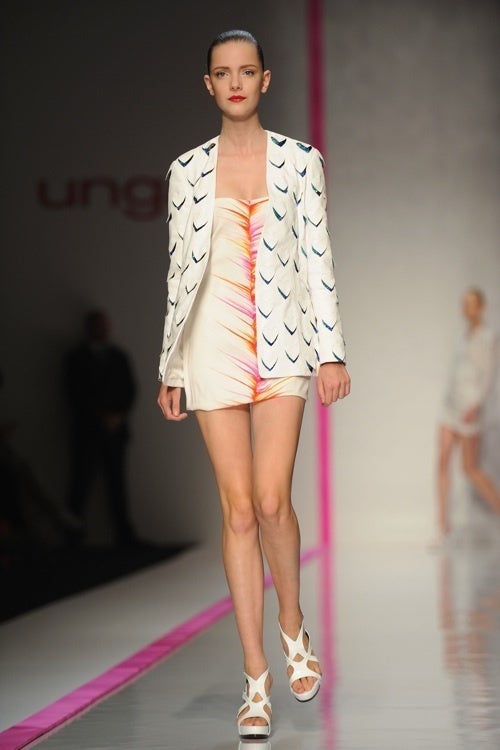 S
I like Lindsay Lohan, and I typically root for her, but a great deal of this collection felt very mall to me, you know? Almost as if I were seeing the Forever 21 knockoffs instead of the high fashion originals.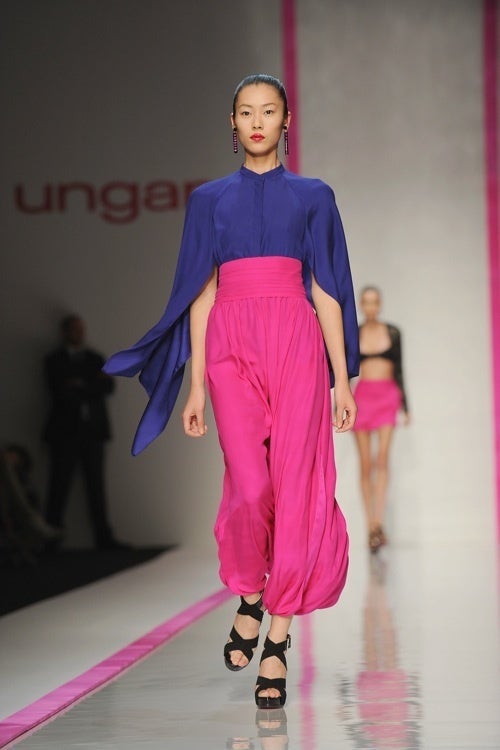 S
Again, really beautiful colors. The hot pinks and rich purples were the highlights of the collection. I wish they used them a bit more.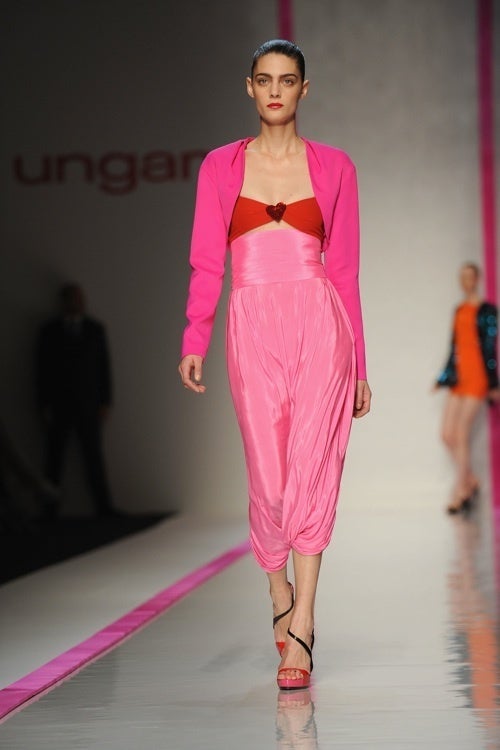 S
While the color here is gorgeous, I'm not a big fan of the heart bandeau top.



S
Help me out, fashion people. What is the direction here?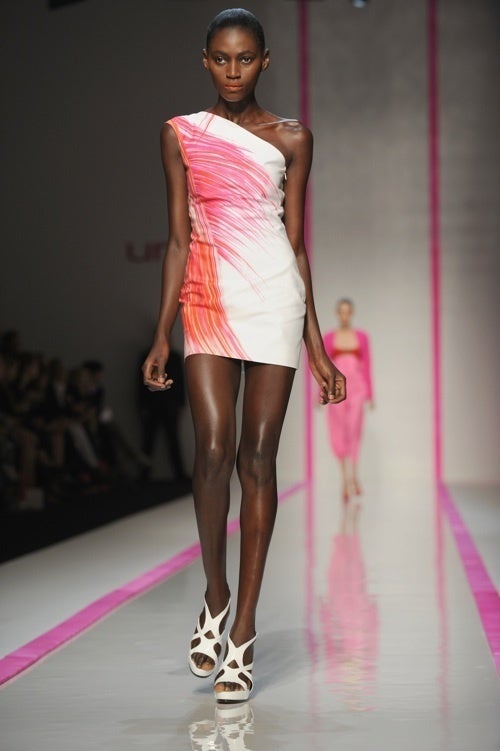 S
This is a pretty standard Hollywood party girl dress. Lohan was brought to Ungaro because she was believed to understand younger buyers, most notably her friends. I suppose this speaks to that, as I can see many starlets picking this one up.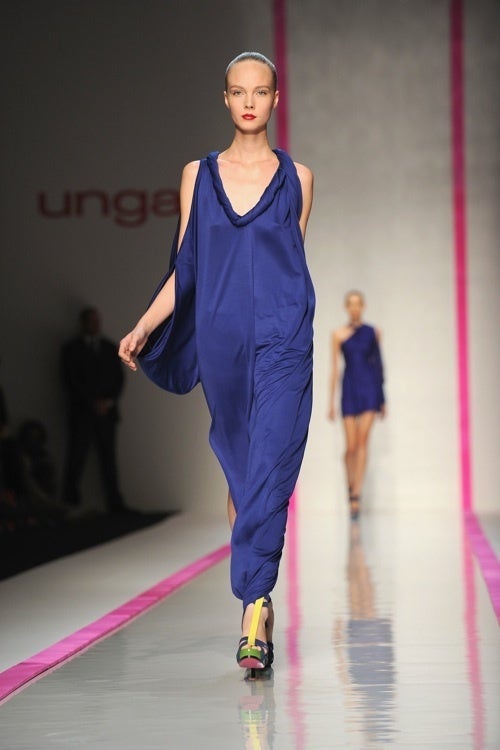 S
If this is shapeless and unflattering on a model, I'm not sure how anyone else will pull it off.



S
You didn't think we were going to get through a Lohan-influenced collection without leggings, did you?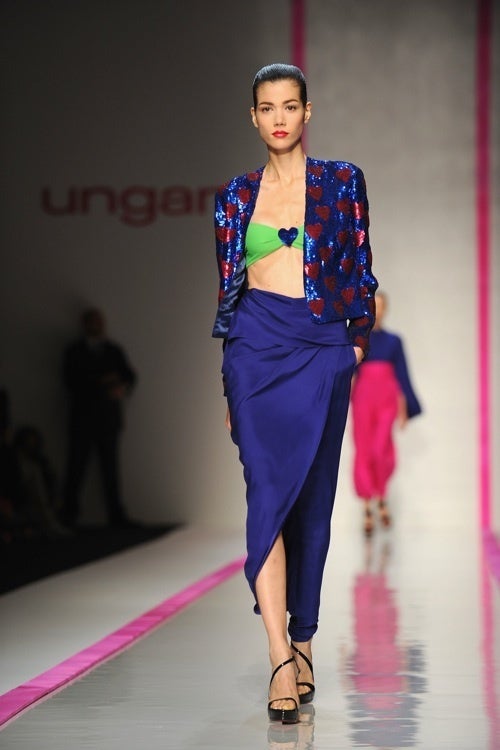 S
Ugh, no. This is just budget. I love you, Lilo, but this is Paris Fashion Week, not the first round of Project Runway.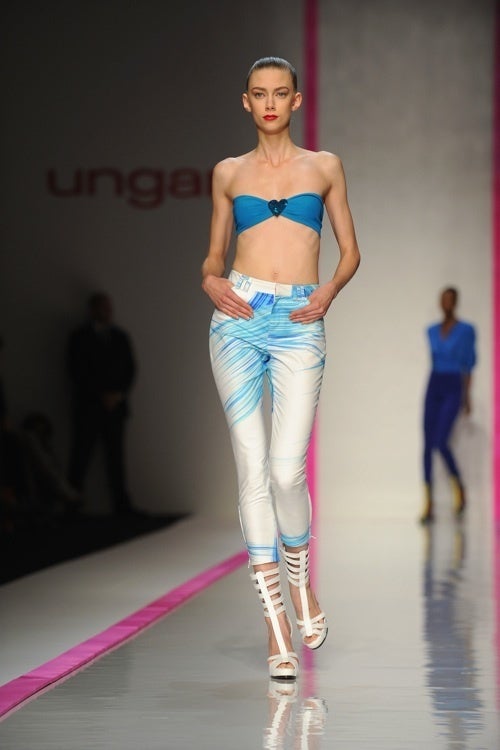 S
I just can't, you guys.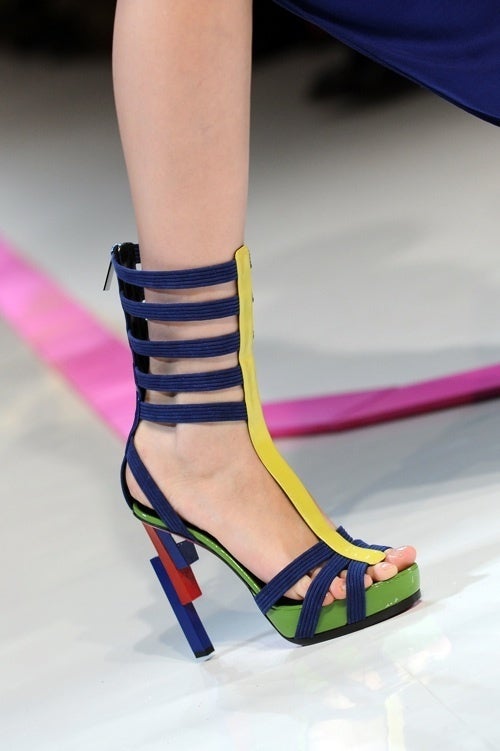 S
The shoes were pretty fun. These remind me of that Colors of Benetton perfume I had in 5th grade.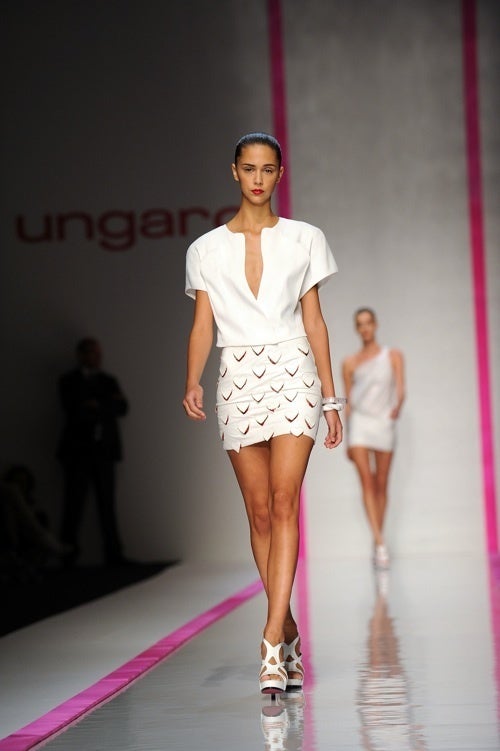 S
I like the cut of the shirt, but I'm not sold on the heart pattern.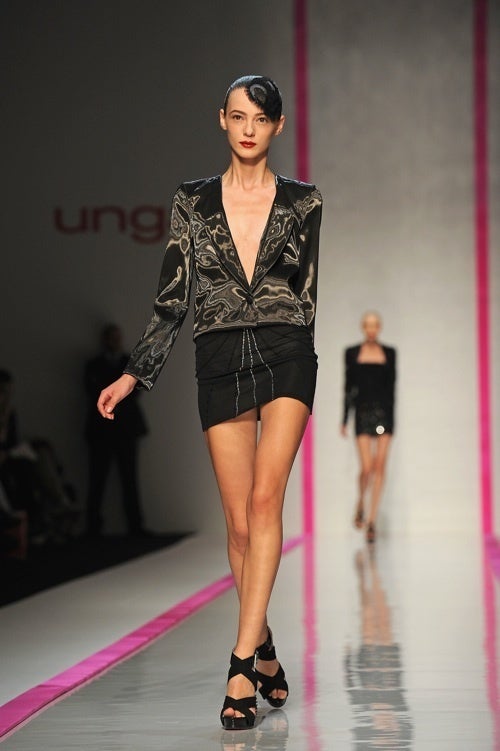 S
I thought this look was pretty fun, actually. Everything is so short in this collection, but that's very Lohan, and that's also very Spring 2010, by the looks of other collections.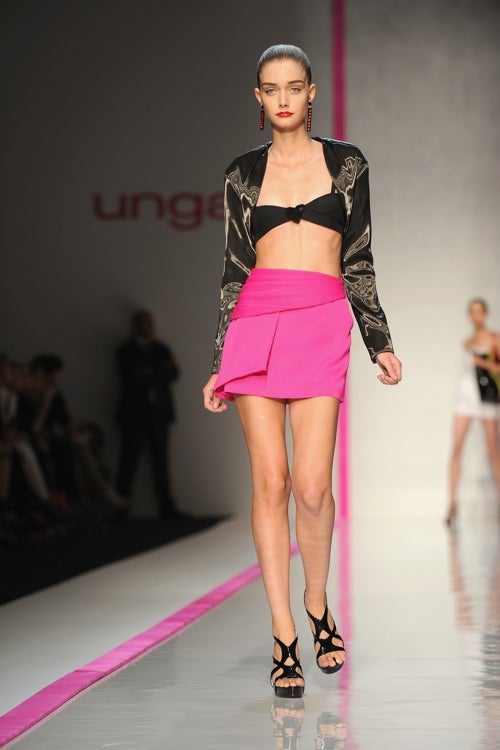 S
But then we go back to looks like this, which just seem a bit derivative and cheap looking.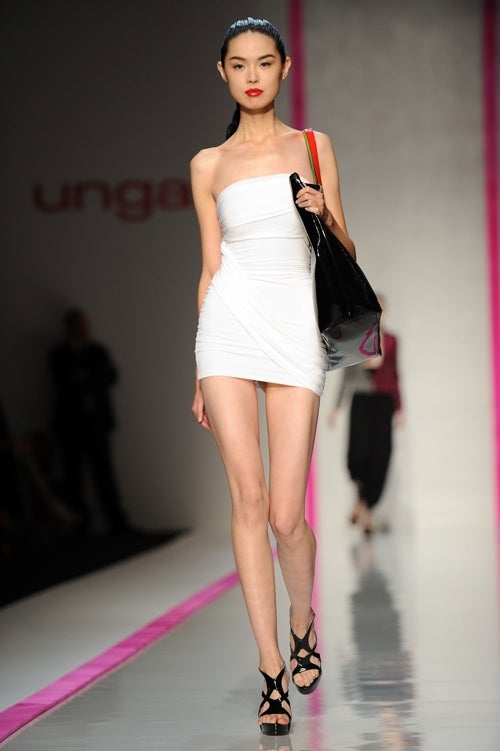 S
Very simple, very clean, not groundbreaking, but very Lohan. They knew her style when they hired her, and they seem to be celebrating it.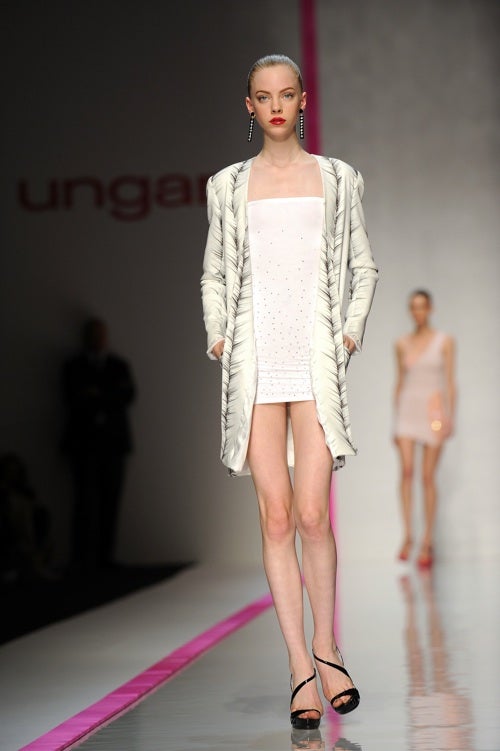 S
Again, when the collection shies away from color, it just seems a bit meh. That could just be a personal preference, though.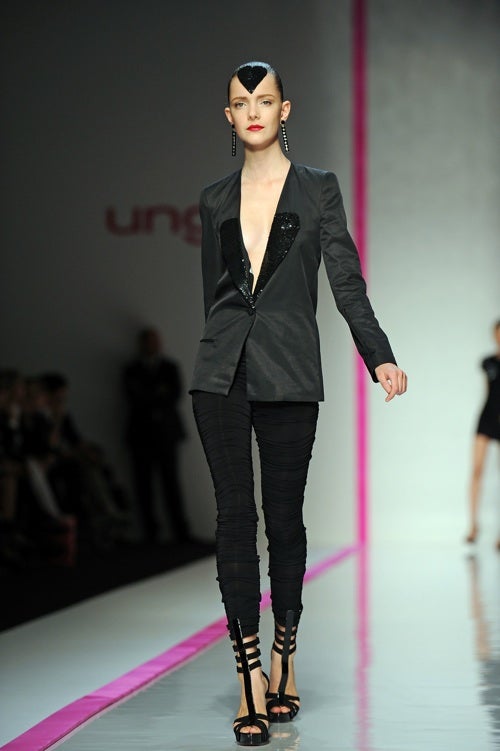 S
I actually kind of loved this. It's completely ridiculous, but it's fun.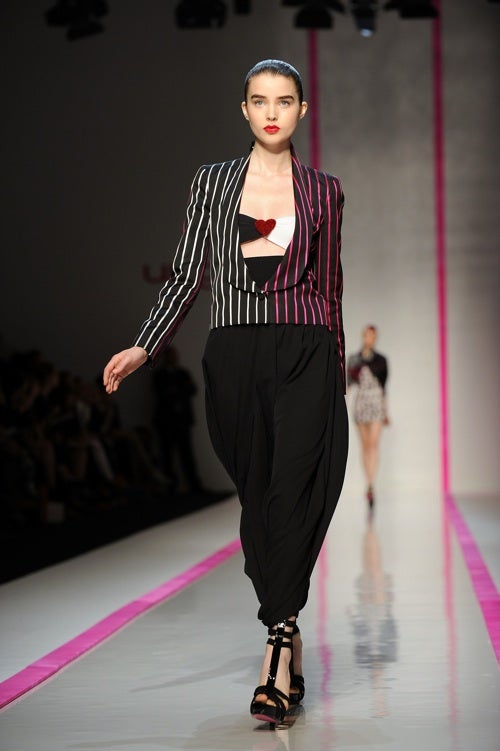 S
A bit of 80s, a bit of the future, and sadly, a bit of the heart bandeau epidemic running rampant through these pieces.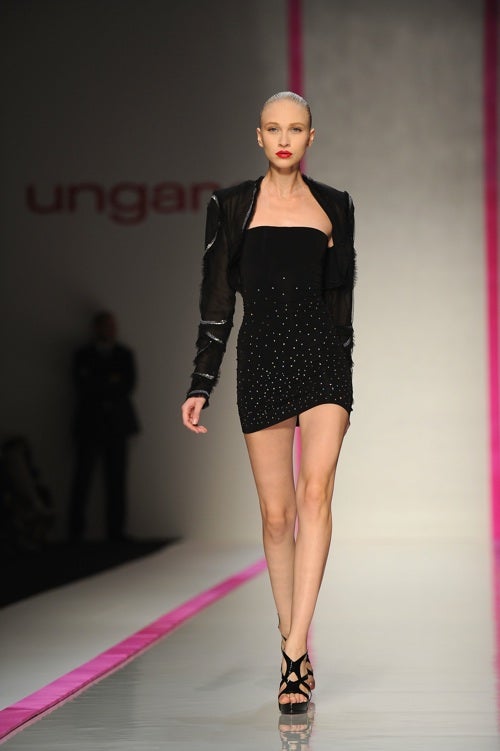 S
Again, it's not bad, it's just okay. And there's something very Forever 21 about some of this, which I suppose Ungaro was going for, in trying to reach a younger crowd, though perhaps not exactly in this way.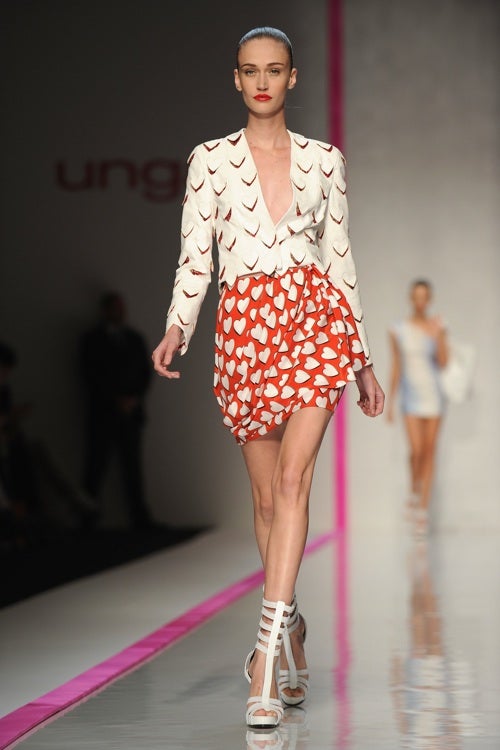 S
Two of hearts! Two hearts that beat as one! I'm confused! I'm confused!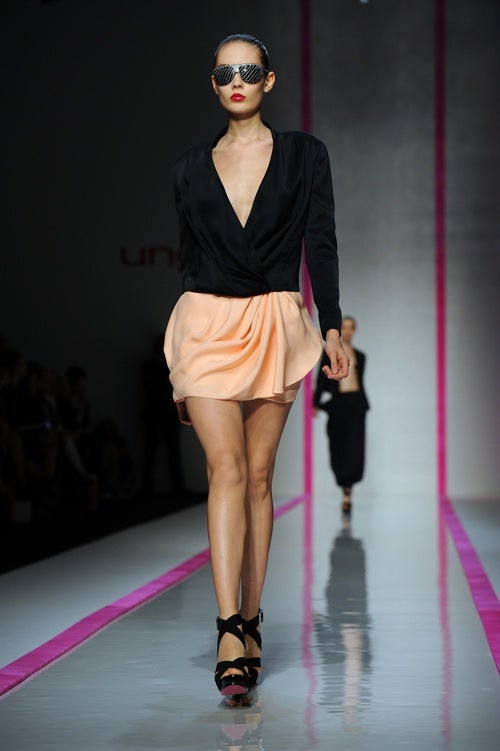 S
Simple, cute, young, fun. Go ahead, Lindsay.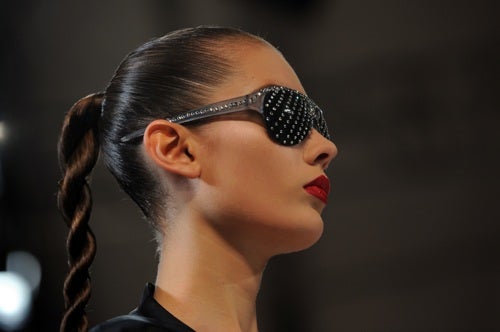 S
However, I think I saw these glasses at Target 2 years ago.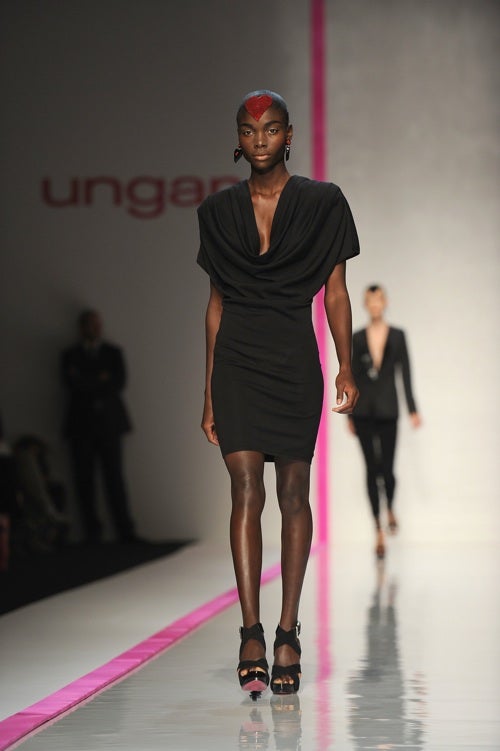 S
Very cute, and probably would have been cuter without the stupid heart pasties distracting everyone.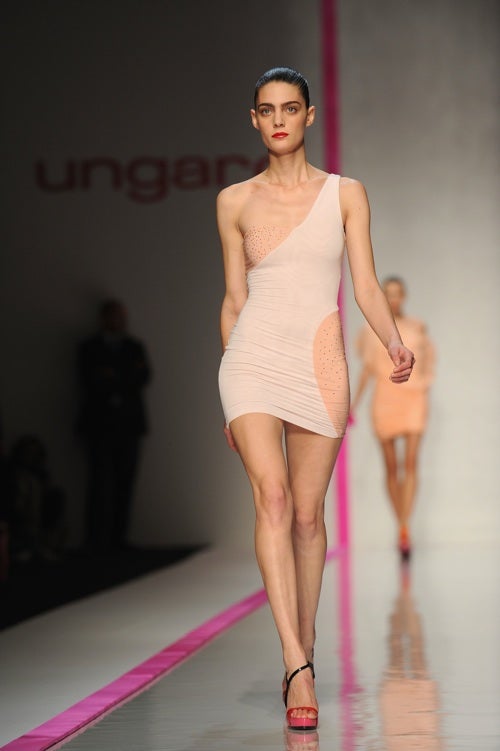 S
I am 28 years old and I live in the woods. I am not the target demo for this, so to me, it looks like something you wear under a dress. However, I'm sure others feel differently.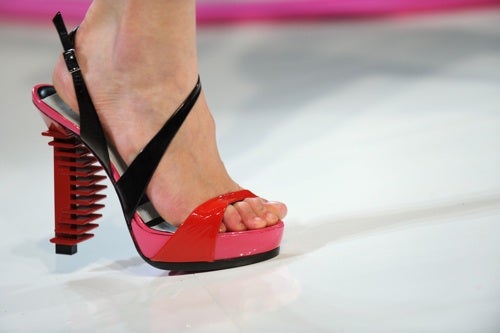 S
I got really excited when I saw these because they reminded me of the bottle for Debbie Gibson's Electric Youth perfume. The design is interesting, but I'm not sold on the plasticky material.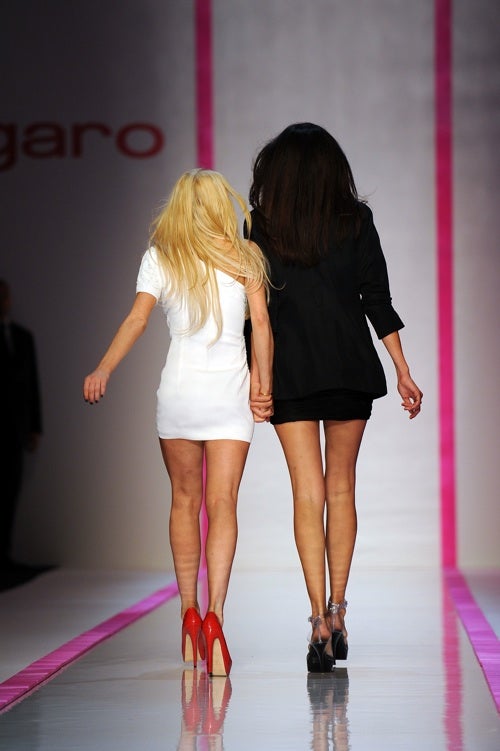 S
So how did Lohan do? Okay, I guess. She did exactly what she promised: brought her style and sensibilities to a fashion house that wanted her input. The hearts were a mistake, I think, but the party dresses and rich colors are getting positive reviews. It wasn't the best collection at fashion week, by any means, and Lohan has a long way to go, and surely the knives will be out. As Alexander writes, "Lohan was visibly distressed as she took her bow and Archs was also close to tears," as both women most likely realize that some nasty reviews and a lot of hard work are in their future. But it wasn't a total disaster, and if nothing else, it will be interesting to see where Lohan and Ungaro go from here.
At Ungaro, Mayhem Erupts Over Lindsay Lohan [ABCNews]
Paris Fashion Week: Ungaro Spring/Summer 2010 [Telegraph]