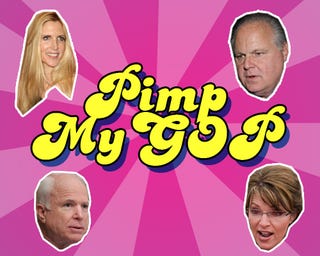 Friends, the Grand Ol' Party ain't looking so grand these days. Even John McCain is saying he thinks the GOP needs a makeover. And while I don't work for Style or We, I think I have a few tips.
1. Oust the Puppets Who Think They Are Masters
In a NY Times op-ed today, David Brooks notes:
Republican voters have not heeded their masters in the media. Before long, South Carolina looms as the crucial point of the [2008 Primary] race. The contest is effectively between Romney and McCain. The talk jocks are now in spittle-flecked furor. Day after day, whole programs are dedicated to hurling abuse at McCain and everybody ever associated with him. The jocks are threatening to unleash their angry millions.

Yet the imaginary armies do not materialize. McCain wins the South Carolina primary and goes on to win the nomination. The talk jocks can't even deliver the conservative voters who show up at Republican primaries. They can't even deliver South Carolina!

So what is the theme of our history lesson? It is a story of remarkable volume and utter weakness. It is the story of media mavens who claim to represent a hidden majority but who in fact represent a mere niche - even in the Republican Party. It is a story as old as "The Wizard of Oz," of grand illusions and small men behind the curtain.
And much of the problems plaguing the party are based on these illusions of power. But who actually possesses the type of power to create trust and move the people? As Steve Schmidt admits, Sarah Palin does not possess this trait. Neither does Rick Santorum. Nor Michael Steele.

2. Ensure Your Outreach Is Actually Reaching Out

What kind of person is the GOP looking to attract? And who is doing the recruiting? Having met far too many black Republicans who feel the need to make it known (within minutes) that they aren't like other black people and that they are real original thinkers, I have one thing to say to the Republicans: condescension is not a recruitment tactic. THESE PEOPLE ARE NOT HELPING YOU. Get them off the circuit.
In the latest issue ofWords. Beats. Life (peer reviewed global journal of hip-hop culture) recently, and in their "It Ain't My Fault: Blame It On Hip-Hop" issue, they have an interview with Brandon Brice of the Hip-Hop Republicans. He says:
You know in the eighties we were dealing with the struggle. There was a lot of rap music directed toward Reaganomics. But a lot of that—and I question did people really understand it— Reaganomics. There was a lot of negativity towards a lot of the economics policies that President Reagan put out there. And so questioning it is one thing. But actually understanding it and knowing exactly what it is, and breaking it down, I think that's a disservice. I think music is a center of all. And when you are taking your view of things — this is what it is — and you don't have anyone else challenging you, then I think it's a disservice to the listener.
But what is Brice really saying here? Why is there the assumption that people did not understand Reaganomics? Most folks I know didn't like it or were negatively impacted by policies they could trace directly back to Reaganomics. And if there was misinformation about Reaganomics, why was there no example provided of a way those policies benefited the black community?
3. Make Sure Your Party Walks The Talk
You know, perhaps embracing the social conservatives so tightly wasn't such a good idea after all. Aside from the sticky issues of not living up to those lofty ideals on fidelity and heterosexuality, the idea of playing down the intellect and playing up the "folksy" "real American" appeal of the GOP has started to erode a key part of their base.